Passengers carried by airlines declined even more sharply in January than the previous month, as governments continued to tighten travel restrictions.
Total demand, as measured by revenue passenger-kilometres, fell 72% compared with January 2019, after a 70% decline in December, according to IATA data.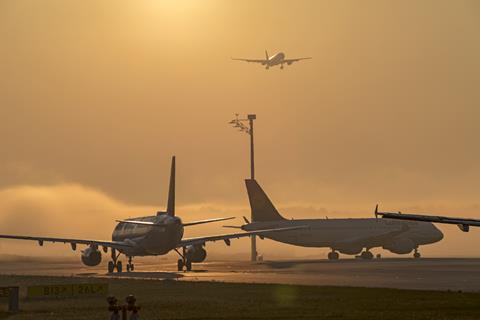 This year is "starting off worse than 2020 ended, and that is saying a lot", says the airline association's director general Alexandre de Juniac. "Even as vaccination programmes gather pace, new Covid variants are leading governments to increase travel restrictions. The uncertainty around how long these restrictions will last also has an impact on future travel."
The picture is likely to deteriorate further before it improves, as February bookings for the northern hemisphere are 78% below last year.
Even domestic demand, which had been a relative bright spot for the industry, fell 48% annually, against a 43% decline in December. This was driven by restrictions in China during what is usually a busy New Year travel season.
International passenger demand in January was 86% below January 2019, after an 85% decline in December.
Load factors also plunged to "all-time lows", notes chief economist Brian Pearce. "We anticipate after these weak January numbers we'll probably see another weak set [of data] before it gets better," he adds.
The decline in passenger numbers will have a knock-on impact on airline's finances, IATA warns.
It now expects the industry to burn through $75-95 billion this year, instead of turning cash-positive in the fourth quarter at previously forecast. "This is not something that the industry will be able to endure without additional relief measures from governments," warns de Juniac.
While air cargo demand grew in January, it makes up only a small proportion of airline revenues so will not have a significant impact on their bottom lines, IATA notes.