Doncaster Sheffield airport (DSA) is to close from the end of October after a strategic review by owner Peel Group concluded there were no "tangible proposals" which would address its lack of financial viability.
Peel launched a strategic review of the airport in July after Wizz Air's closure of its Doncaster Sheffield base left just TUI as a based carrier.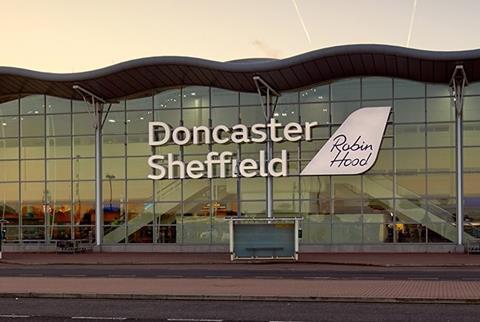 "Throughout the consultation process up until today, Peel has also been in close contact with the airlines and other aviation users of the airport," the company says. "None of these discussions has delivered any tangible results that have changed the board of DSA or Peel's clear view that the airport is and will remain unviable."
Local leaders had been working on efforts to keep the airport open. Peel notes that while it received a letter on 8 September from the mayors of South Yorkshire and Doncaster saying they had been approached by a group interested in purchasing or operating the airport, it has not received a response to urgent requests for details on the consortium's identity, nor "the terms of any proposal or evidence of the consortium's financial standing or aviation expertise".
Peel Airports chairman Robert Hough says: "We recognise that this will come as a great disappointment to many. The intractable problem remains the fundamental and insufficient lack of current or prospective revenue streams, together with the airport's high operating costs.
"Our employees have always been DSA's greatest asset, and we are grateful to them all, past and present, for their dedication and diligence over the years. The immediate priority remains to continue engaging closely with them over the next few weeks."
Peel says it will begin winding down the provision of aviation services at the airport during the week commencing 31 October.
Reacting to the news, South Yorkshire mayor Oliver Coppard said: "We have identified market interest, brought potential investors to the table, and last week we offered them a deal to project the jobs and livelihoods of DSA staff, and to give Peel the time and space to negotiate with new investors.
"The fact that they chose to turn our offer down simply confirms what many of us suspected: that Peel was never serious about finding an alternative and safeguarding the future of DSA."