Canada's Porter Airlines will restart its operations a month later than previously planned due to ongoing coronavirus-prompted travel restrictions that continue to make business difficult.
The Toronto-based regional carrier, which serves 19 destinations in eastern and central Canada as well as the northeastern USA, now says it is aiming to begin flying again by 31 August.
"We want to see our planes in the sky as soon as possible and are actively working to prepare for our resumption of service," the airline says on 28 June. "However, the ongoing uncertainty presented by government travel restrictions, including border closures, is impacting our ability to operate flights. We are closely watching developments and know that Porter will be an important part of providing people with travel options as the economy recovers."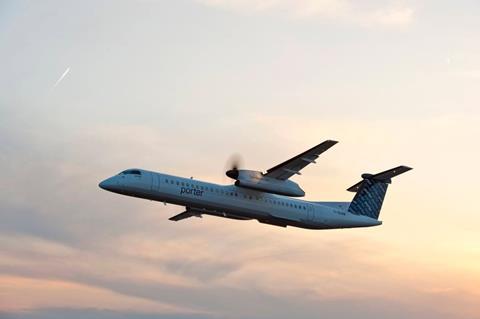 Porter shuttered operations in March as the coronavirus pandemic was beginning to disrupt air traffic around the world. According to Cirium fleets data, the airline operates a fleet of 29 De Havilland Aircraft of Canada Dash 8-400 aircraft and has orders for 12 Airbus A220.
Last week, Air Canada chief executive Calin Rovinsecu blasted the Canadian government for maintaining strict lockdown and quarantine requirements more than 100 days into the crisis. The measures, he told shareholders at the company's annual general meeting on 25 June, are "disproportionate", and hindering the aviation industry's and the country's return to normalcy.
"There is growing unease that …. increasingly these broad-brush blanket prohibitions and restrictions are less effectively combating Covid and more inhibiting our economic recovery," he said. Passenger carriers need to be able to "prudently and cautiously do some business".
In March, Canada banned all non-nationals from entering the country, with few exceptions. All travellers entering Canada by land, sea or air, including citizens, are required to go into a mandatory 14-day quarantine. Even those travelling within the country and between provinces can be subject to requirements that may include self-isolation.
The longest peaceful border in the world, between Canada and the United States, has been effectively sealed since 21 March, and the restrictions, extended on 24 June, will continue through at least 21 July.