Porter Airlines has launched a new "sister" carrier – Porter Airlines Canada – with an eye on US expansion using new Embraer 195-E2s.
The Toronto-based regional carrier applied on 31 January for an exemption and foreign air carrier permit with the US Department of Transportation (DOT) that requests an expedited process so Porter Airlines Canada can begin operating to the USA in summer 2023.
Porter aims for the affiliate airline to launch routes to Los Angeles and Las Vegas toward the end of the first half of 2023. A summer expansion would follow, including to Orlando, Fort Lauderdale and San Francisco, Porter says in a 31 January regulatory filing.
Porter Airlines Canada will be administered by the same executive team as Porter Airlines, which already flies to the USA using De Havilland Canada Dash 8-400 turboprops. The carriers will combine marketing, technology, routes, maintenance, dispatch and loyalty programmes, and eventually establish code-share agreements.
"Back-end systems are well established to allow the sale of both [Porter Airlines] and [Porter Airlines Canada] under one IATA code on flyporter.com," the airline's filing says.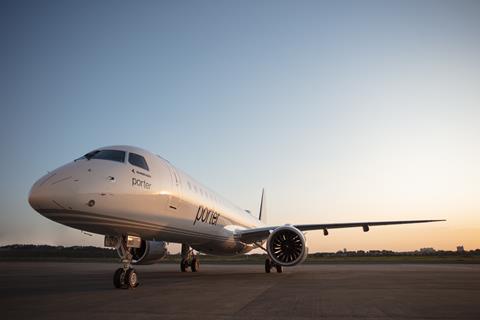 The passenger service provided by Porter Airlines Canada will complement Porter's existing routes from its hub at Billy Bishop Toronto City airport to other Canadian destinations and to US Midwest and East Coast cities.
Porter's new Embraer aircraft allow the airline to "expand well beyond" its previous geographic range, "putting the entire continental US in reach", it says.
The new airline received its operating license for scheduled international service from the Canadian Transportation Agency on 27 January.
"As such, Porter is ready and willing to begin the process of obtaining its US authorisations, so it may commence its transborder service as soon as all regulatory approvals are received," the carrier's filing says.
Porter is seeking from the DOT a temporary exemption allowing its new airline to begin US flights before having a foreign air carrier permit. If the DOT grants the exemption, Porter will begin the process of obtaining that permit under the Federal Aviation Administration's Part 129 regulations for foreign airlines, Porter says.
Porter plans to use the E195-E2s to spearhead its North American expansion, with new routes to western Canada, the USA, Mexico and the Caribbean. The airline placed its first E195-E2 in service 1 February, allowing the regional carrier to roll out flights from Toronto Pearson International airport to Calgary, Edmonton and Vancouver – its first routes to western Canada.
Porter has firm orders for 50 E195-E2s and purchase rights for 50 more, for a total list-price value of $7.38 billion if all options are exercised.
The airline has taken delivery of seven E195-E2s and anticipates having 50 of the Pratt & Whitney PW1900G-powered twin jets by the end of 2024.
Transport Canada certificated the E190-E2 and E195-E2 on 15 December, paving the way for the aircraft's delivery to Porter.
Founded in 2006, Porter also operates 29 Dash 8-400 turboprops, Cirium data shows.