Porter Airlines will delay its tentative date for resuming flights to 20 July, marking the 10th time the regional airline has moved the date forward since shuttering its operations at the start of the Covid-19 pandemic downturn in March 2020.
The Toronto-based carrier previously planned to restart flights in June. Despite this delay, Porter chief executive Michael Deluce states that the recovery of travel demand in the USA is an "encouraging" sign for airlines in Canada.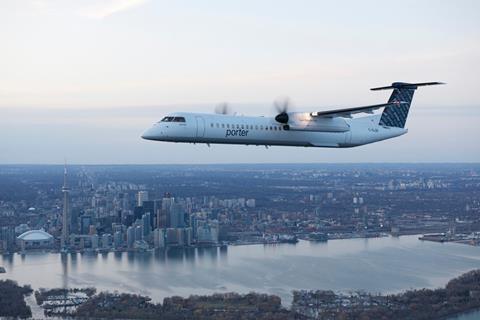 "As vaccination rates in Canada increase, we are hopeful travel restrictions and public health measures will ease, so we can recall our team members, welcome back our passengers and begin to rebuild the airline," Deluce says.
States in the USA report that 38% of Americans are fully vaccinated, while Canada reports that 4% of its residents are fully vaccinated.
This slow pace of vaccination could make it difficult for Ottawa to fulfill its goal of receiving enough shipments of vaccines for all its 37 million citizens by the end of June in a push to inoculate everyone by the end of September.
Canada's federal government may be available to provide help for Porter to restart its operations once it commits to flying again. Ottawa in April announced that it will provide C$5.88 billion ($4.9 billion) in support to Air Canada, while Air Transat has said it is in discussions with Canada's federal government to also receive airline-specific aid.
Porter has a fleet of 29 De Havilland Canada Dash 8-400 turboprop aircraft in storage, Cirium fleets data shows. It also has 12 Airbus A220-100 turbofan aircraft on order, with options to order 18 additional A220s as possible replacements for its existing Dash 8 fleet.