Qantas plans to restart some flights to countries with high vaccination rates from 18 December, its clearest indication yet on an anticipated international restart.
The carrier had in late-August disclosed its hopes to resume international flights around mid-December to what it termed "Covid-safe" countries, but did not provide a specific date. Australia's borders have remained firmly shut for more than a year, as part of attempts to keep the coronavirus out of the country.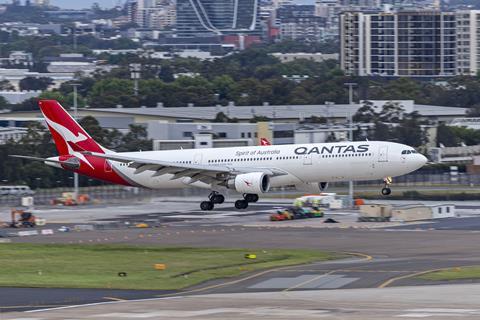 The airline's published schedules shows that it plans to restore service to at least six cities. Countries that Qantas expects to operate to include Singapore, the UK, the USA, Canada, as well as Japan.
Among routes that will be reinstated include the airline's Perth-London non-stop, as well as its signature Sydney-London 'Kangaroo Route' via Singapore.
According to Qantas' schedules, four major Australian cities — Sydney, Melbourne, Brisbane and Perth — will see international services from 18 December.
Of these, the airline's Sydney hub will have the largest share of overseas flying. The Oneworld carrier expects to fly to Singapore, London Heathrow, Los Angeles, Vancouver, Tokyo Haneda, as well as Nadi in Fiji.
From Melbourne, it will fly to Singapore, Los Angeles as well as London, via Perth. As for Brisbane, it will see the resumption of flights to Singapore and Los Angeles.
Qantas will operate a mix of Airbus A330s and Boeing 787-9s on these routes. The carrier's fleet of A380s, most of which are still in storage, will only fly from mid-2022, it previously said.
As for flights to neighbouring New Zealand, which came under the auspices of the trans-Tasman travel bubble arrangement, Qantas reiterated its hope that borders between both countries will reopen around the same period.
Qantas' schedules shows flights to New Zealand cities such as Auckland, Christchurch, as well as Queenstown also slated to resume on 18 December.
The rest of Qantas' network, including leisure destinations that have high infections and low vaccination rates like Thailand, the Philippines and South Africa, will only have flights resumed in April 2022.