Qantas is seeing a rebound in international travel demand in the near term, with the group now expecting international capacity in April to surpass earlier forecasts.
It is now targeting to operate at 40% pre-pandemic capacity in April. Previous forecasts - disclosed in February - indicate the airline to be operating at 22% capacity by in the quarter to 31 March, and at 44% by end-June.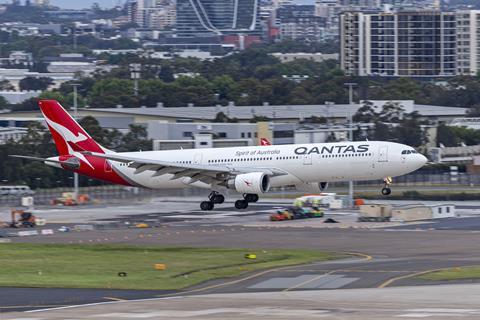 The announcement comes as Qantas and its low-cost unit Jetstar disclose plans to grow their international networks out of Sydney, with more flights to India, as well as restarting flights to South Korea.
Qantas will operate four weekly flights between Sydney to Bengaluru in South India from 14 September, using its fleet of Airbus A330 aircraft.
The flights are first direct link between Australia and South India and will complement its current operations between Melbourne and Delhi.
Qantas also announced its intentions to codeshare with Indian low-cost carrier IndiGo on flights to over 50 cities in the country.
"The proposed agreement will mean Qantas passengers can transit seamlessly from Qantas flights in Bengaluru, Delhi, or Singapore onto IndiGo services to other major Indian cities as well as smaller ones such as Pune and Goa," says Qantas.
The airline's expansion into India comes on the back of the Australia-India free trade agreement signed on 2 April, which is expected to boost trade connections between the two countries.
With South Korea, Qantas will return to Seoul after a 14-year hiatus, operating flights from Sydney with its A330s. Low-cost unit Jetstar will fly thrice-weekly on the same route using its Boeing 787-8s.
Seoul and Bengaluru mark the latest network expansion the Australian carrier is embarking on in nearly half a year. Qantas has also launched flights from Melbourne to Delhi and Dallas-Fort Worth in the USA, as well as between Perth and Rome, and from Darwin to Dili.
Airline group chief Alan Joyce notes international travel demand is on the rebound after nearly two years of shut borders.
"It's clear that Australia is back on the map for international travellers. Demand for our international flights has rebounded since borders reopened, and that's giving us the confidence to launch these new routes together with the marketing support from Destination New South Wales," he adds.