Romanian low-cost carrier Blue Air is to launch services from London Heathrow to Nice, a move underlining its intent to both operate from primary airports and to expand outside of its home market.
Blue Air will fly four weekly services from Heathrow to the French Riviera resort city from 16 September, operating Thursdays, Fridays, Sundays and Mondays in a bid to target demand for long weekend trips.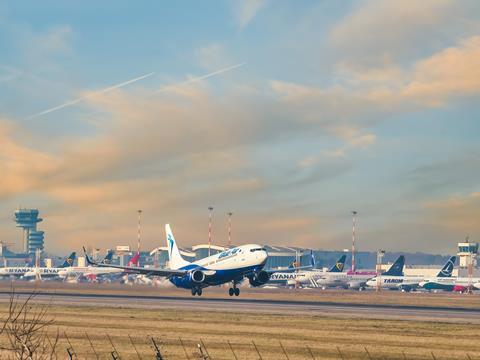 The UK earlier this month removed France from its "amber-plus" Covid travel status, meaning fully vaccinated travellers no longer need to quarantine on returning from the country.
Blue Air chief commercial officer Krassimir Tanev says: "[The] French Riviera is a highly demanded product for our London customers and represents an important development in Blue Air's network strategy."
Following the disruption to air services due to the pandemic, the Romanian carrier has launched flights from a number of major network airports. That includes London Heathrow, at which there were next to no budget carriers operating before the crisis, and from where it now serves both Bucharest and Cluj in Romania.
London-Nice has been a mainstay of budget carrier schedules since EasyJet added a Luton service to the French city in 1996 – the carrier's second ever international route. But British Airways is the only operator on the route from Heathrow. Cirium schedules data shows EasyJet also serves Nice from London Gatwick, and that both EasyJet and Ryanair served Nice from London Stansted before the crisis.
Blue Air already operated some Italian domestic routes outside of Romania, and this month adds its first non-Romanian international connections to Italy in launching Milan Linate flights to Barcelona and Paris Charles de Gaulle. The Heathrow-Nice link though marks its first route outside of either Romania or Italy, aside from some Larnaca-Athens flights it operated many years ago.
Speaking to FlightGlobal last month, Blue Air chief executive Oana Petrescu explained the shift towards serving primary airports in part reflects opportunities that did not exist prior to the crisis, together with changing priorities for its customers. "They want to be at a large airport where if anything happens, they can have alternatives and reorganise flights. So that's why we started conversations with the main airports."