Ryanair and Wizz Air passenger numbers were down 95% and 87%, respectively, in February as the two European low-cost airlines carried less than a million passenger between them during the month.
Europe's biggest budget operator Ryanair carried 500,000 passengers in February, compared with 10.5 million a year ago, while Wizz flew a little under 400,000 passengers, compared with over 3 million in February 2020.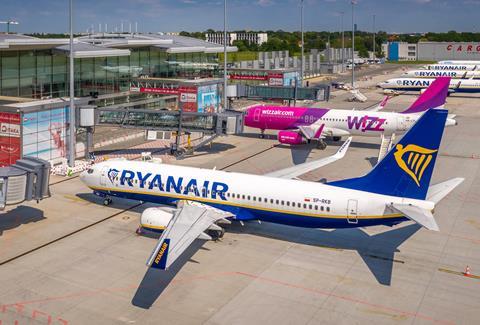 The carriers are the first European operators to release traffic data for February and it underlines another bleak month for European air transport amid widespread travel restrictions in place to tackle the pandemic.
Ryanair operated just 6% of its normal February schedule, while Wizz flew 17% of the capacity it had flown in February 2020 – a base figure slightly inflated by the leap year effect.
For Ryanair it marked a sixth consecutive month of lower passenger numbers since European markets briefly opened up last summer, though a load factor of 78% is its highest since the crisis began.
It also marks a full 12 months of year-on-year falls in passenger levels for Ryanair since the coronavirus crisis began – it reported its last year-on-year increase in passengers in February 2020.
Over the rolling year during this period Ryanair carried 32.7 million passengers, a fall of almost 80% on the 153.8 million it carried in the 12 months to February 2020.
Wizz passenger levels are down 72% for the same rolling year, down from 41 million to 11.5 million.
Ryanair and Wizz rolling year traffic figures since March 2020
Airline
Mar 2020
April
May
Jun
Jul
Aug
Sep
Oct
Nov
Dec
Jan
Feb 2021
Total
FlightGlobal analysis of airline traffic results
Ryanair
Passengers (m)
5.7
0.04
0.07
0.4
4.4
7.0
5.1
4.1
2.0
1.9
1.3
0.5
32.7
change vs 2019/20
-48%
-99%
-99%
-97
-70%
-53%
-64%
-70%
-82%
-83%
-88%
-95%
-79%
Load factor
91%
72%
73%
71%
73%
73%
69%
78%
74%
Wizz Air
Passengers (m)
1.8
0.07
0.1
0.5
1.8
2.4
1.6
1.1
0.5
0.7
0.6
0.4
11.5
change vs 2019/20
-36%
-98%
-94%
-86
-53%
-41%
-59%
-69%
-84.70%
-80%
82%
-87%
-72%
Load factor
92.0%
74.7%
61.1%
52.2%
61.0%
71.0%
65.0%
66.0%
68.2%
56.0%
61.0%
69.8%
67.1%