Traffic data released this morning from European low-cost carriers Ryanair and Wizz Air for October shows passenger levels running 70% down on prior-year levels as travel restrictions across Europe took further hold.
The two budget airlines are the first European carriers to disclose October traffic data and have been among the more active in restoring capacity since the crisis began. But both have curtailed their planned capacity growth in light of the second wave of the coronavirus sweeping across Europe.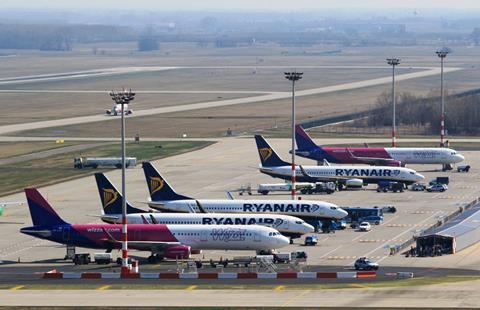 Ryanair passenger numbers were down 70% at 4.1 million. This was on the airline offering around 40% of its planned capacity, resulting in a load factor of 73%.
This marks the lowest monthly passenger and proportion of planned capacity since Ryanair restored its network in July.
Ryanair and Wizz Air traffic figures since July 2020
Airline
July
August
September
October
Ryanair
Passengers (m)
4.4
7.0
5.1
4.1
% of planned capacity flown
40%
60%
53%
40%
Load factor
72%
73%
71%
73%
Wizz Air
Passengers (m)
1.8
2.4
1.6
1.1
% of previous year capacity
74%
80%
60%
42%
Load factor
61%
71%
65%
66%
Source: FightGlobal analysis of airline traffic data
Ryanair's reduced traffic outlook for the year ending March 2021 of 38 million – compared with 148 million the previous year – takes the group's capacity for November through to March down from 60% to "at most" 40% of prior-year traffic.
Wizz Air carried 1.1 million passengers in October compared with 3.7 million at a load factor of 65.9%. Wizz capacity was down 58% on the same month last year.
Again this marks the lowest passenger and planned capacity levels since June. During August, Wizz flew 80% of prior-year capacity levels – though the fast-expanding carrier had been increasing its capacity by around a fifth prior to the pandemic.