Ryanair and Wizz Air passenger numbers in November slipped to their lowest level since the peak of the pandemic earlier this year, as the pair cut capacity amid a swathe of fresh lockdowns and travel restrictions.
The Irish low-cost carrier handled just 2 million passengers in November, figures reported this morning show. This is down 82% on the same month in 2019.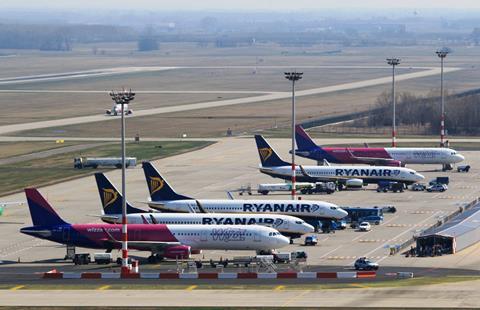 It marks the airline's lowest monthly passenger numbers and biggest year-on-year decline since June, when its flights were at a virtual standstill. Ryanair capacity and traffic has been sliding since August, when it carried 7 million passengers - almost half previous year levels.
Wizz's traffic numbers tumbled 85% compared with November 2019, as the airline transported just 456,000 passengers. This is the budget carrier's lowest passenger level since May.
The traffic was based on airline capacity at a fifth of November 2019 levels.
Ryanair and Wizz are the first two European carriers to release traffic data for November.
Ryanair and Wizz Air traffic figures since June 2020
Airline
Jun
Jul
Aug
Sep
Oct
Nov
Ryanair
Passengers (m)
0.4
4.4
7
5.1
4.1
2.0
change vs 2019
-97
-70%
-53%
-64%
-70%
-82%
Load factor
72%
73%
71%
73%
Wizz Air
Passengers (m)
0.5
1.8
2.4
1.6
1.1
0.5
change vs 2019
-86
-53%
-41%
-59%
-69%
-85%
Load factor
52%
61%
71%
65%
66%
68%
Source: FightGlobal analysis of airline traffic data