Pan-European operator Ryanair is exceeding 2019 capacity levels in November 2021 for the first time since the onset of the Covid-19 pandemic, as it emerges from the crisis ahead of rivals.
According to the latest data from European air traffic manager Eurocontrol, Ryanair operated 2,096 flights in the week commencing 4 November – 6% more than it did in the same week of 2019. Wizz Air flights were just 1% down on pre-crisis levels, albeit it operated around a quarter of Ryanair's flight numbers.
Indeed, Ryanair's flight numbers for the week were more than double those of any other carrier, with Turkish Airlines closest at 1,003.
Among Europe's 10 busiest airlines, the next closest operator to Ryanair and Wizz in terms of recovery in flight numbers was Turkish low-cost carrier Pegasus, which was 14% down on 2019, followed by Turkish Airlines (19% down), KLM (20% down) and Air France (22% down). At the other end of the scale, British Airways flight numbers were 45% down.
Cirium schedules data backs up Ryanair's recovery narrative, showing that for the whole month of November 2021, its group airlines are due to operate 62,805 flights, which is an 8.4% increase on 2019. In terms of available seat kilometres, capacity is 8.0% higher.
Seat capacity is higher by 9.0%, partly reflecting the introduction of Boeing 737 Max 8-200 jets into Ryanair Group's fleet. Those aircraft have 197 seats, compared with the 189 seats in its 737-800s.
Cirium data shows the last time Ryanair capacity exceeded the equivalent month in 2019 was February 2020, before the industry was grounded by the first wave of Covid-19 cases.
Ryanair's in-service fleet size in mid-November 2021 is flat with the same point in 2019, according to Cirium data, when a lack of Max jets was mostly offset by more 737-800s being in service.
Ryanair Group has 28 737 Max 8-200 aircraft in service today, Cirium fleets data shows, spread across its mainline, Malta Air and Buzz units.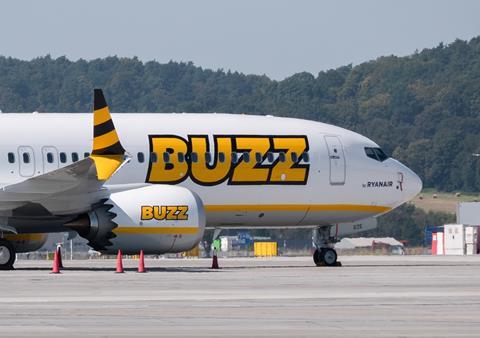 They are flying alongside 411 737-800s, plus 29 Airbus A320s that are part of the group's non-customer-facing Lauda Europe operation.
Ryanair noted on 1 November that while its capacity is rising, "load factors have yet to recover to [pre-crisis] levels", as it reported a group-wide operating profit for the quarter ending 30 September 2021.