The group chief executive of Ryanair has praised the role of the European Union's Digital Covid Certificate in the recovery of air travel in the region, while suggesting the UK's departure from the bloc is behind its slower progress in that regard.
"Brexit has been a disaster, as we predicted it would be," Michael O'Leary said during a Eurocontrol event 23 November. "Travel to and from the UK has become much more friction-fuelled."
The UK relaxed its international travel rules relating to Covid-19 from early October, having faced much criticism from airlines over its 'traffic light' system, but still requires fully vaccinated arrivals to undertake a day-two test and all passengers to complete a lengthy locator form.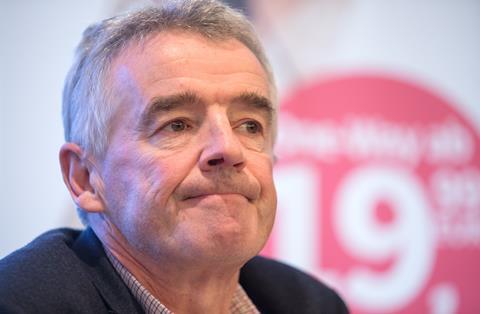 The UK's current border policies are "a challenge, both for EU citizens travelling to the UK and for UK citizens travelling to Europe", O'Leary states, adding: "I don't think anybody wants to see that extended."
In contrast, he describes as a "huge success" the EU's Digital Covid Certificate, which allows testing-free travel for fully vaccinated travellers. O'Leary urges the EU to "uphold" the certificate amid moves by some governments to reintroduce lockdown measures as cases of the virus spike again in the region.
His comments came as the latest Eurocontrol data for flight numbers showed UK-based carriers British Airways and EasyJet lagging their European peers in the air travel recovery.
Both airlines saw flights numbers down by 43% compared with pre-Covid levels during the week commencing 16 November. Ryanair (up 7%), Turkish Airlines (down 16%), Lufthansa (down 35%), Air France (down 28%), KLM (down 21%), SAS (down 38%), Wizz Air (down 20%) and Pegasus (down 8%) all saw a better performance by that measure.
Speaking earlier this week at the Airlines 2021 event in London, IATA director general Willie Walsh said that policies implemented by the UK government during the Covid-19 recovery are the "principal reason" for the slow recovery of the country's airlines, although the former IAG chief did not mention Brexit in that context.
At the same event, UK aviation minister Robert Courts said the government planned to review the country's travel restrictions in January.