Ryanair will close its Dusseldorf base in October after the German airport's operator and a ground handling provider refused to lower their fees.
All Ryanair flights at the airport after 24 October – the end of the summer schedule – have been cancelled and more than 200 pilots and flight attendants stationed in Dusseldorf will be made redundant, the airline says.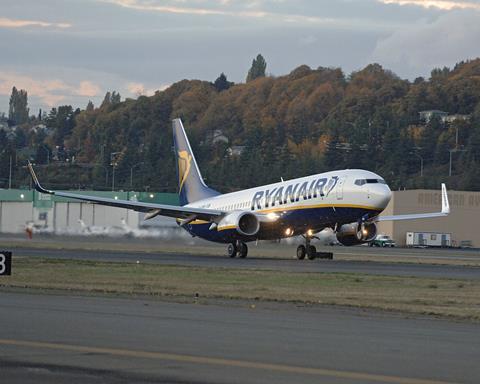 The crew members are employed by subsidiary Laudamotion, which operates seven Airbus A320s at Dusseldorf on Ryanair's behalf.
Ryanair says the closure is "a direct result of Dusseldorf airport's refusal to lower its very high fees due to the Covid-19 crisis, as well as a recent demand from monopoly handler Acciona for an immediate 30% price increase".
The carrier argues: "Increased German aviation taxes and… the state-subsidised Lufthansa monopoly make it impossible for Ryanair to operate profitably in Dusseldorf this winter and at the same time offer the low tariffs that are necessary to stimulate traffic again".
Ryanair previously disclosed a decision to close Laudamotion's base in Stuttgart in September "for the same reasons", and says that the subsidiary will "finally" cease operations in Germany.
The move was preceded by a labour dispute about future terms for staff in Dusseldorf, Stuttgart and Laudamotion's Austrian headquarters in Vienna.
In the process of that conflict, Ryanair changed Laudamotion's status – which had conducted flights under its Lauda brand and own flight numbers – to that of a wet-lease operator for flights under the parent's branding.
A closure of Laudamotion's Austrian operation was averted when a last-minute labour deal was reached.
Ryanair commercial director Jason McGuinness states that the airline regrets the job losses but has "no alternative" in response to Acciona's "outrageous demand" and the airport's refusal to reduce fees.
He says that competition in Germany has been "massively distorted" by the state's €9 billion ($10.5 billion) bailout for Lufthansa Group, "while at the same time the German government is increasing its air traffic tax and its monopoly airports are refusing to lower their very high and uncompetitive charges".
On 4 September, Ryanair announced additional routes from Weeze airport for the winter season.
That regional airport is located close to Dutch-German border, approximately 80km northwest of Dusseldorf.