Ryanair is planning to reduce its October capacity by 20%, on top of the 20% cut that it announced in mid-August.
The budget carrier now expects to operate at around 40% of its 2019 levels in October, down from 50% previously, although it does project load factors of at least 70% during the period.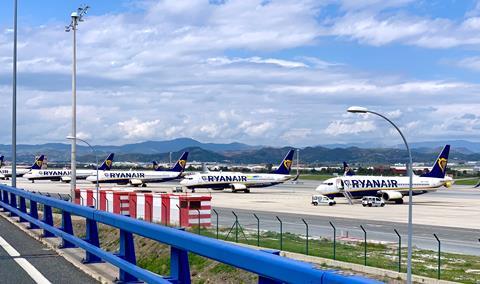 "We are disappointed to reduce our Oct capacity from 50% of 2019 to 40%," says Ryanair. "However, as customer confidence is damaged by government mismanagement of Covid travel policies, many Ryanair customers are unable to travel for business or urgent family reasons without being subjected to defective 14-day quarantines."
The airlines warns that "while it is too early yet to make final decisions" about its winter schedule from November to March, "if current trends and EU governments' mismanagement of the return of air travel and normal economic activity continue, then similar capacity cuts may be required across the winter period".
Capacity reductions are necessary because bookings have been impacted by "continuous changes in EU government restrictions and policies", Ryanair complains, "many of which are introduced at short notice, which undermines customers' willingness to make forward bookings".
The carrier is strongly critical of Ireland's travel policies, which have severely restricted movement to and from the country since 1 July, and highlights that cases there have risen faster than in countries such as Germany and Italy that have no EU travel restrictions.
Ryanair's rollback of capacity comes as Cirium data shows activity has once again begun to fall across the continent following a moderate summer recovery.
The number of flights tracked across Europe, measured as a seven-day moving average, edged down to 11,534 on 17 September, from a summer peak of 12,719 on 28 August. In mid-September last year, the same data shows, over 26,500 flights took place across Europe.