Ryanair has confirmed it will reopen its base at Shannon airport this summer and called on the Irish government to act to incentivise travel to secure at capacity at Cork and Dublin.
The Irish carrier in October announced Shannon was one of six bases it was shutting over the winter as part of wider network cuts as demand was hit by increased travel restrictions.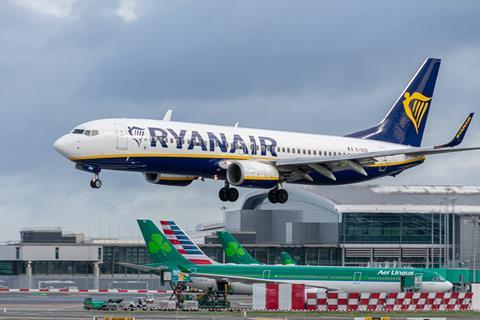 It has today confirmed plans to restore a base at Shannon from April 2021. Ryanair will base one aircraft operating 14 routes from the Irish airport.
Cirium schedules data shows Ryanair served 18 destinations from Shannon in the summer of 2019.
Ryanair chief executive Eddie Wilson says, "The airport has worked tirelessly with Ryanair over the last number of months to secure capacity ahead of next summer and we're delighted that this re-opening of the Ryanair base will restore Shannon's connectivity."
Another Irish airport, Cork, was among the bases shut this winter and Wilson called on Irish transport minister Eamon Ryan to "urgently introduce incentives" on airport charges to support passenger recovery at Cork and Dublin.
"There will be significantly reduced capacity in Europe next summer and unless the Irish Government secures that connectivity now, unfortunately it will go elsewhere in Europe where governments, regions and airports are actively engaged in securing this vital infrastructure," says Wilson.
"Without recovery incentives, passenger capacity at Dublin will fall and Cork as a Ryanair base may not reopen for Summer 2021."