Ryanair will temporarily cease operations from all Irish airports except Dublin for a one-month period, blaming "government mismanagement" and a "complete collapse in travel demand".
From 14 November to 12 December, the low-cost carrier's Irish services will be entirely flown from Dublin, it confirms in a statement.
"Ryanair recently announced its reduced winter schedule, taking capacity down to 40% compared to the prior year," the carrier says. "As a result of continuous government mismanagement and a complete collapse in travel demand, additional cuts regrettably had to be made across our Irish airports."
That means the airline will not operate from regional airports including Cork, Kerry, Ireland West and Shannon during the period.
Cirium schedules data shows it is operating 325 flights from those facilities in October, with Cork accounting for 150 of that total.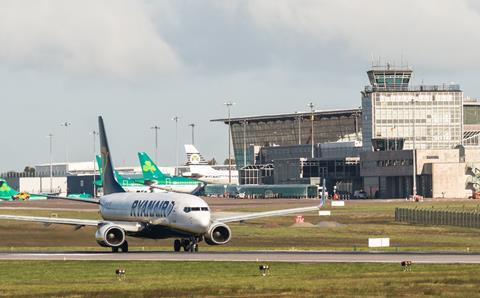 In October 2019, it operated nearly 800 flights from those airports, according to Cirium data.
"Operations will resume on 13 December ahead of the Christmas season to allow Irish families to reunite," the airline adds.
Responding to the news, Niall MacCarthy, managing director at Cork Airport, says: "The news that Ryanair will be cancelling all flights from Cork airport for a four-week period from mid-November to mid-December is a further body blow to the Irish aviation industry and to Cork and the south of Ireland in particular.
"It is acknowledged that as an island nation with an open economy we have to learn to co-exist with this virus for quite some time yet," he adds, while calling for the adoption of a pre-departure coronavirus testing regime to "form the backbone of the return of confidence in safe air travel".
Earlier today, Ryanair issued a statement asking Ireland's transport minister, Eamon Ryan, "to take immediate action to preserve Ireland's connectivity with the rest of Europe". It lamented the fact that the "Green List" of destinations from which travellers do not need to quarantine on arrival in Ireland features "zero countries".
The chief executive of Ryanair's mainline operation, Eddie Wilson, warned earlier in October that the carrier's Irish capacity "will just go somewhere else", if less-draconian travel restrictions were in place in other European countries.