Ryanair-owned Lauda has cancelled plans to close its Vienna base after the majority of pilots and cabin crew backed a new collective labour agreement.
Services will resume on 1 July with three Airbus A320s based at the airport, rising to 10 by August. Originally, Lauda intended to base 16 A320s in the Austrian capital for the summer 2020 season, but this plan has been scaled back because of the coronavirus crisis.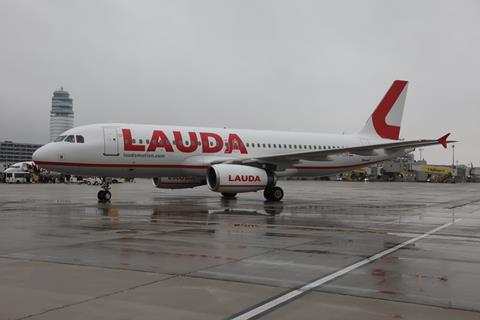 "Lauda will reopen in Vienna in July with lower aircraft costs, lower airport costs, and a more efficient CLA," says the carrier.
On 29 May, Lauda said it was shutting down its Vienna base after failing to reach a pay deal with crew. The plan was for Ryanair to expand at the airport instead of Lauda, but this has now been abandoned.
The Austrian carrier says it has "confirmed there will still be some job losses among pilots and cabin crew" but that these will be "significantly reduced thanks to the weekend vote of pilots and cabin crew".
Lauda adds that 90% of pilots and 66% of cabin crew backed the new collective labour agreement.