Scandinavian carrier SAS will resume services on 21 short-haul routes this month, operating the majority of them from Copenhagen.
On 15 June, the airline will begin flights from the Danish capital to Brussels, Dusseldorf, the Faroe Islands, Hamburg, Milan, Munich, Palanga in Lithuania, Reykjavik, Stuttgart, Trondheim in Norway, and Vilnius.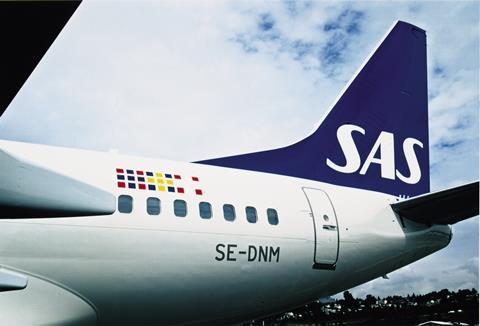 Flights from Stockholm Arlanda to Palma will also resume on 15 June, following an earlier relaunch of service from the Swedish capital to Athens on 6 June.
On 20 June, SAS will add flights from Copenhagen to Athens, Frankfurt, Malaga, Nice, and Split in Croatia. The airline will also serve Split from Oslo and launch two additional routes from Stockholm to Nice and Thessaloniki.
SAS says it will increase frequencies on a number of Norwegian domestic routes that it has continued to operate throughout the Covid-19 pandemic. All of the carrier's domestic Norwegian destinations will be served by the end of June. SAS has previously announced that flights to Amsterdam, Chicago and New York will also resume this month from Copenhagen.
The airline grounded most of its fleet earlier in the year in response to the coronavirus outbreak. Passenger numbers in May were down 94% compared with the same month in 2019, says SAS.
"Countries are gradually opening up and we expect that demand will start to rebuild slowly from the current low levels," states SAS chief executive Rickard Gustafson.
The airline plans to double its capacity to 30 aircraft this month.