Amsterdam Schiphol airport chief executive Dick Benschop is stepping down from his role, as the Dutch hub continues to struggle with operational challenges as further measures are implemented.
Benschop, who will remain in place until a successor is found, handed his notice to the supervisory board late on 15 September. It comes just days after the airport was again forced to ask airlines to cancel flights amid a shortage of security staff.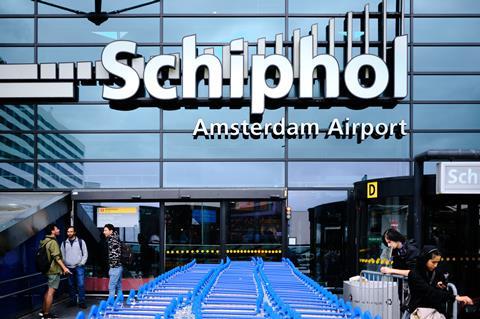 "A lot of attention, and criticism, has been directed towards the way in which Schiphol is tackling the problems and my responsibility as CEO," he says." On my own initiative, I am giving Schiphol the space to make a new start. I do not want the attention on me as an individual to become an obstacle for Schiphol.
"I have done my very best, but we're not there yet. I hope that things improve soon. I love Schiphol. Managing this company was a great honour."
Like many airports in Europe, Schiphol has struggled to keep pace with the demand ramp-up this summer, which has already required the implementation of flight-movement restrictions at the airport in a bid to shore up reliability. Restrictions will remain in place until the end of of the summer season in October.
The Dutch airport's chairman, Jaap Winter, says the the board has been in "intensive contact" with Schiphol's management in recent months and says further action is required.
"All possibilities for improvement were and continue to be discussed. Under [Benschop's] leadership, far-reaching measures were taken to stabilise the situation at Schiphol. Improvements were made during the summer, but this isn't enough.
"Further intervention in the capacity and management of the security companies is necessary."
Schiphol has not yet confirmed details of the additional capacity restrictions.
"It's disappointing to ascertain that Schiphol will again be adopting these measures at such short notice," says the airport's operator's biggest operator KLM in a statement. "KLM is currently assessing what the consequences of the new restrictions will be. Expectations are that there will be more clarity about this within a number of days."
Schiphol's Winter adds: "As a national and international airport, Schiphol must return to offering the quality of service that passengers and airlines are accustomed to. In recent years, [Benschop] has shifted Schiphol's course to focus on quality, care for the living environment and speeding up the process of making aviation more sustainable."
He says the company "understands" Benschop's decision to resign, and adds: "We hope to quickly find a successor."
Alongside this summer's operational challenges, Schiphol also faces the longer-term issue of Dutch Government proposals to cap capacity at the airport in a bid to tackle noise pollution. That could see annual flights reduced at Schiphol by 12%, and by 20% compared with an originally-envisaged growth plan for the airport.
Traffic figures show Schiphol handled 5.3 million passengers in August. While that is an increase of 40% on last year, it is still 21% below pre-crisis levels.
Story updated to add KLM comment