Amsterdam Schiphol airport is to reduce the maximum number of departing passengers by 18% until the end of October and apply restrictions for at least the rest of the year as security staff shortages persist.
The Dutch hub has struggled to keep pace with rapidly returning demand and had already capped the number of daily departing passengers for this month and October at 67,500 and 69,500, respectively, in an effort to shore up reliability.
It has now reduced the daily cap to 54,500 passengers for the rest of September and 57,000 for October as it says security companies working at Schiphol will supply fewer personnel than previously indicated.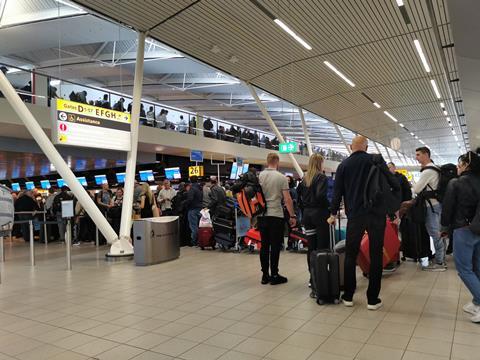 A shortfall in security staff had already required the airport on 12 September to ask airlines to cancel flights that day and, in announcing the resignation of its chief executive Dick Benschop yesterday, the airport had indicated further capacity measures would be necessary.
Schiphol says the additional reduction will run to at least 31 October and says it expects to apply limitations to the daily number of passengers "at least until the end of the year".
Royal Schiphol Group chief operating officer Hanne Buis says: "This decision first and foremost is bad news for passengers and for airlines. I am fully aware of that. Nevertheless, the decision taken is necessary with the safety of passengers and employees in mind."
The airport adds it is calling for security companies to offer "fully-fledged schedules" for security guards. "It is clear that structural improvements are needed," says Buis. "This needs to be addressed as a matter of urgency."
Schiphol's biggest operator KLM says it is assessing the consequences of the new restrictions and expects more clarity about this within a number of days.
"KLM will make every effort to ensure that passengers who have already booked tickets will in fact be able to travel," it says. "We expect the situation at the airport to be resolved swiftly and effectively so that passengers and airlines know what they're going to have to contend with – also in the longer term."
WIDER AIRPORT CHALLENGES
Schiphol is far from the only European airport to have faced operational challenges during the ramp-up. Ironically both Schiphol and London Heathrow – another airport to cap capacity this summer – have in the past few days released traffic data that shows passenger levels moving within almost one-fifth of pre-Covid passenger numbers in August.
Passenger numbers at Schiphol and Heathrow airports were down 21% on August 2019 – though sharply up on the same month last year.
Schiphol handled 5.37 million passengers in August, an increase of just over 40% on the same month last year. Passenger numbers at Heathrow jumped 171% to just over 6 million in August. The sizeable jump in part reflected how Heathrow's recovery trailed those of some of its European hub rivals last year as travel restrictions in the UK remained in place, notably on the key transatlantic market.
Frankfurt airport handled just under 5.2 million passengers in August. While that is an increase of 54% on last year, it is still 24% below pre-Covid levels.
Paris Charles de Gaulle airport reported just over 6 million passengers in August. That puts it within one-fifth of 2019 levels, the closest of any of the four hubs with pre-Covid traffic peaks.
Snapshot: European hub August traffic evolution
Airport
August Pax (m)
Change v 2021
Change v 2019
Source: FlightGlobal from company data
London Heathrow
6.04
170.9%
-21.4%
Paris Charles de Gaulle
6.02
69.6%
-19.4%
Amsterdam Schiphol
5.32
40.4%
-21.9%
Frankfurt
5.19
54.0%
-24.9%
The four hubs were the busiest in Europe before the crisis and their strong growth was a key driver as ACI Europe reported airports in the region had moved within 14% of 2019 passengers levels in July. However, Istanbul airport, which has benefitted from Turkey's booming tourism market this summer, was the busiest European passenger airport in July.
ACI Europe argues the strength of the recovery in Europe supports the restoration of pre-Covid slot rules which have been eased during the pandemic. In June, the European Commission proposed a return to the pre-Covid 80:20 'use it or lose it' airport slot rule for the coming winter season, but with exceptions in the case of significant air-travel disruption.
ACI Europe director general Olivier Jankovec says: "As the EU-plus market has been very much driving the recovery and traffic volumes are finally getting closer to pre-pandemic levels, it is essential that the EU brings its airport slots rules back to normal – requiring airlines to effectively use these slots for 80% of the time during the forthcoming Winter season starting at the end of October.
"Going back to the 80% usage rule is essential at this critical and dynamic juncture in the recovery from the Covid-19 pandemic. This is about ensuring an effective use of scarce airport capacity for the benefit of air connectivity, consumers and businesses."