Royal Schiphol Group is to take a 40% stake in Maastricht Aachen airport under a strategic partnership which envisages the Dutch regional airport having a major focus on electric-powered flights in future.
The Dutch airport group, which operates Amsterdam Schiphol airport, is paying €4.2 million ($4.1 million) for the stake in Maastricht airport. The latter is the second-largest cargo airport in the Netherlands and leisure carrier Corendon Dutch Airlines and budget operator Ryanair both serve the facility. Maastricht set a new record for daily passengers in July, having previously seen its highest traffic in August 2019.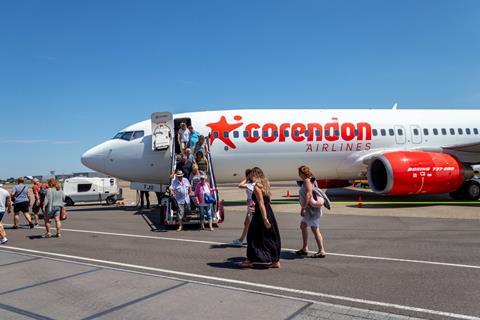 The deal comes after a June decision on the future of the airport from the provincial council backed keeping Maastracht open but sought an additional shareholder and a commitment to sustainability as part of its business plan.
"With this collaboration, MAA will be able to focus on the development of a sustainable and future-proof airport. Electric flying will be one of the main priorities," the two airport operators say in a joint statement.
Royal Schiphol Group is also contributing €800,000 to an an environment fund that is being created with contributions from governments and companies. "In addition, the parties are committing to a far-reaching exchange of knowledge in the areas of real estate and commerce," they add
Royal Schiphol Group chief financial officer Robert Carsouw says: "Our contribution to society is to connect the Netherlands with the rest of the world. Regional airports are an important element in this strategy. The idea that airports in the Netherlands form a single system, as expressed in the Dutch aviation policy, is very appealing to us.
"By collaborating intensively and investing in Maastricht Aachen airport, we can share knowledge and expertise and make optimal use of the scarce capacity available in the Netherlands."