European carrier Volotea is crediting a shift of its network strategy to focus on domestic flights for a July-September traffic performance in which declines in passenger levels were kept to less than a quarter.
Volotea says it handled 2.4 million passengers in the third quarter, down only 23% on the same period the previous year. Bookings were only 9% down in the peak August month. The airline says load factor stood at 90% for the period, seven points down on the same period in 2019.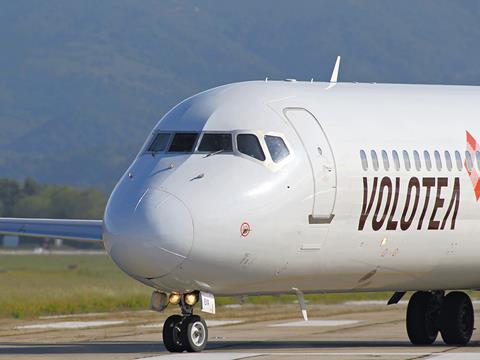 After resuming scheduled services in June, the airline says it operated 247 routes during the third quarter. Of these, 56 were new services, reflecting a strategic shift to serve domestic markets to help counter the challenge of international travel restrictions.
Cirium schedules data illustrates how the airline has increased capacity on domestic routes in its three biggest markets – France, Italy and Spain. It lifted domestic flight capacity in its biggest market Italy by almost a fifth and by 40% in France compared with the third quarter of 2019.
Volotea domestic capacity Q3 2020 v Q3 2019
Market
Flights Q3 2020
Change v Q3 2019
France domestic
5,295
40%
Italy domestic
8,174
19%
Spain domestic
2,338
77%
Total network
18,887
-18%
Source: Cirium schedules data
Domestic routes accounted for more than four-fifths of Volotea's capacity during the third quarter – though its overall flight capacity was down almost a fifth.
Volotea chief executive Carlos Munoz says: "We feel enormously proud of these results, which are very positive given the current context. Our strong performance proves the strength of our strategy and operations at a most challenging time for our industry.
"Volotea's flexibility, and its ability to offer a solid domestic network in record time, has been key for this success, allowing us to maintain our activity levels close to the levels of last year."