Regional carrier Silver Airways says it is introducing new routes between its three Florida hubs and Charleston, South Carolina.
Launching on 21 May, just ahead of peak summer travel season, the Fort Lauderdale-headquartered airline will offer daily service between Orlando and Charleston, four-times-weekly service between Fort Lauderdale and Charleston, and thrice-weekly service between Tampa and Charleston, Silver says on 26 February. It adds that it will be the only carrier offering the Tampa-Charleston non-stop connection.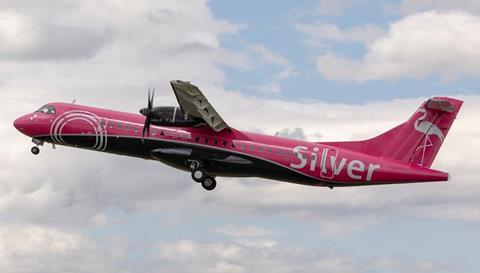 The airline will be operating the routes on its new state-of-the-art ATR 72-600 aircraft.
Silver is in the process of phasing out its 20 Saab 340 turboprops and replacing them with ATR 42-600s and ATR 72-600s. The airline has three of the larger aircraft in its fleet so far, with one more on order.
On Tuesday, Silver applied for US Department of Transportation (DOT) permission to operate flights between the United States and both the Dominican Republic and St Maarten on these larger-gauge aircraft. It currently has authority to operate "small aircraft only" and is seeking a broader exemption from the DOT.