Singapore Airlines (SIA) will launch nonstop flights between Singapore and New York JFK from 9 November – the first time the carrier will operate such flights between the two airports.
Announcing the route's launch, the SIA says it will operate thrice-weekly flights using its Airbus A350-900s.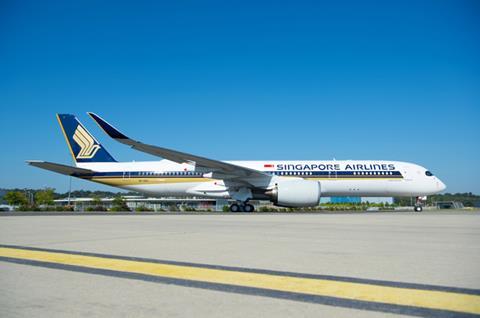 The Star Alliance carrier says operating to New York JFK will allow it to "better accommodate a mix of passenger and cargo traffic on its services to New York in the current operating climate".
It anticipates a "growing number" of transfer passengers on the route, given that passengers are now allowed to transit at its Singapore Changi hub.
"SIA also anticipates significant cargo demand from a range of industries based in the New York metro area, including pharmaceuticals, e-commerce and technology firms. The new service will provide the only nonstop air cargo link from the US northeast to Singapore, which serves as a regional distribution hub for many major US-based companies," SIA adds.
The carrier previously operated nonstop flights to New York's Newark international airport – which was the world's longest nonstop flight – but service was suspended owing to travel restrictions amid the pandemic. SIA's previous flights to New York JFK operated via the Frankfurt hub of its Star Alliance partner Lufthansa.
At 18h 5min from Singapore to New York JFK and 18h 40min on the return leg, the newly announced route is slightly shorter than the Newark service, which stretches up to 18h 45min.
New York JFK will join Los Angeles as the only other North American service SIA is currently operating.
SIA executive vice president for commercial Lee Lik Hsin says the launch of flights to New York JFK is "an important step in the rebuilding of our global network".
"Nonstop ultra-long services are the bedrock of our services to the key US market. We will continue to ramp up existing services and reinstate other points as the demand for both passenger and cargo services return," Lee adds.