SkyWest Airlines intends to end scheduled service to 29 cities in the coming months as it continues to face a flight crew shortage.
The St George, Utah-based regional carrier on 10 March gave notice to the Department of Transportation (DOT) that it will end the flights on or before 10 June this year.
All destinations named in the filing are part of the US government's Essential Air Service (EAS) programme.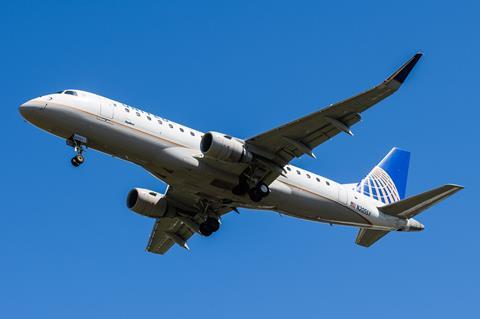 EAS has been in place since the 1970s, and guarantees more than 200 small communities across the USA a minimal level of commercial air service. The government provides subsidies to carriers serving the cities, which would otherwise have little or no scheduled air service.
"Although SkyWest Airlines would prefer to continue providing scheduled air service to these cities, the pilot staffing challenges across the airline industry preclude us from doing so," the airline writes in its filing with the DOT.
"Skywest has long been a supporter of the Essential Air Service programme and the critical need it fills in our national transportation infrastructure," it adds in a media statement. "We appreciate our partnerships and the support of these communities, and we are committed to delivering a solid, reliable product to each of them through this transition."
"We are eager to work with officials toward solutions that would enable us to reconnect these communities to the National Air Transportation System in the future, and we are committed to remaining flexible and adjusting our plans if the situation improves more quickly than currently expected," the company says.
SkyWest flies regional aircraft for United Airlines, American Airlines, Alaska Airlines and Delta Air Lines with a fleet of more than 500 aircraft, including Embraer 175s and Bombardier CRJ200s, CRJ700s and CRJ900s.
All cities to which the airline will end service are in United Airlines' network and are located in the Midwest and Southeast USA.
They include: Alamosa and Pueblo (Colorado), Fort Dodge, Mason City and Sioux City (Iowa), Dodge City, Hays, Liberal and Salina (Kansas), Paducah (Kentucky), Decatur (Illinois), Houghton and Muskegon (Michigan), Cape Girardeau, Fort Leonard Wood and Joplin (Missouri), Meridian and Hattiesburg (Mississippi), Devils Lake and Jamestown (North Dakota), Kearney, North Platte and Scottsbluff (Nebraska), Johnstown (Pennsylvania), Victoria (Texas), Shenandoah (Virgina), Eau Claire (Wisconsin) and Clarksburg and Lewisburg (West Virginia).
The SkyWest routes connect the cities to United's hubs in Denver, Chicago, Washington, DC and Houston.
Staff at the locations will be "offered various options, including transfers within the company", Skywest adds.
Last month SkyWest chief executive Chip Childs said the pilot shortage was quickly becoming one of the biggest headaches for the carrier.
During the company's quarterly results call, Childs said SkyWest anticipates flying 10-15% fewer block hours in 2022 as a result of what he called the "pilot imbalance". This imbalance is expected to continue well into 2023.
Executives at United said, as early as last November, that the airline would be forced to cut regional routes due to the lack of trained and qualified cockpit crew.
All US airlines are scrambling to fill flight deck seats left open by senior captains who retired in the early stages of the Covid-19 pandemic in 2020. At that time, and as a result of the precipitous drop in demand resulting from lockdowns and other travel restrictions designed to mitigate the spread of the coronavirus, airlines shrunk their networks, shed staff and stored or retired aircraft.
Regional carriers, whose pilots tend to be career beginners and fly shorter legs in smaller aircraft, usually also pay lower salaries than legacy carriers. So, their attrition rates have been higher than the majors', which recruit from regionals' ranks.
Management consultancy Oliver Wyman last year said that it expects pilot turnover at regional carriers to rise as high as 40% annually, about three times the normal rate.