South African Airways plans to resume passenger flights on 23 September, restoring services after a major restructuring and the continued impact of the pandemic on air travel demand.
It comes as fellow South African operator Comair, which suspended flights early in July amid heightened travel restrictions in the country, has today said it will resume flights from 1 September.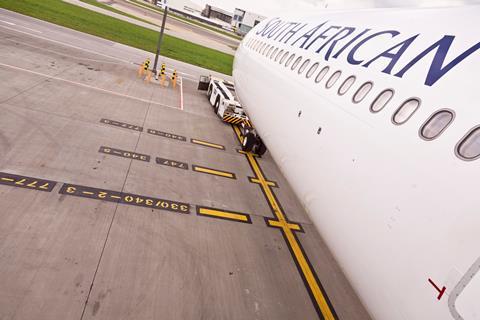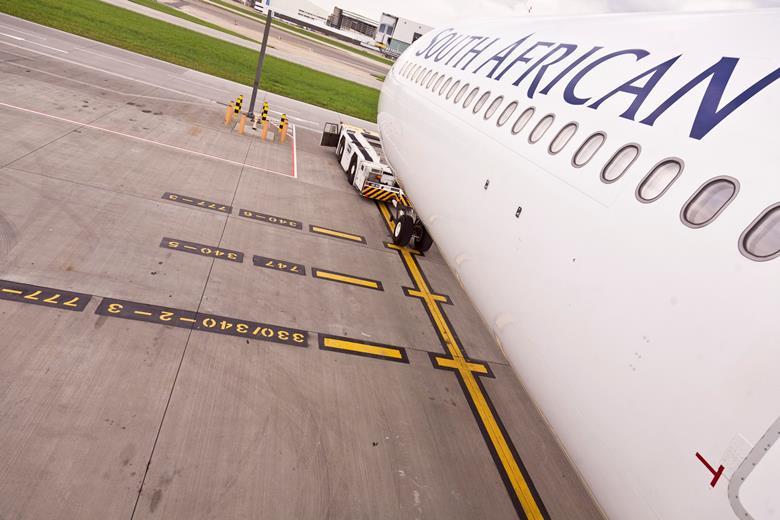 Earlier in August, South African aviation regulators restored SAA's operating licence, paving the way for it to resume services. The airline had suspended flights at the end of September 2020 amid mounting financial problems before a state R10.7 billion ($750 million) rescue funding package was agreed.
Ticket sales resume from 26 August and SAA will initially operate flights from Johannesburg to Cape Town, Accra, Kinshasa, Harare, Lusaka and Maputo. It says it will add more destinations in response to market conditions.
SAA's interim chief executive Thomas Kgokolo says: "After months of diligent work, we are delighted that SAA is resuming services and we look forward to welcoming on board our loyal passengers and flying the South African flag.
"There is a profound feeling of enthusiasm within Team SAA as we prepare for take-off, with one common purpose – to rebuild and sustain a profitable airline that once again takes a leadership role among local, continental, and international airlines."
SAA entered a formal business rescue process in late 2019, but efforts to restructure the carrier were further complicated by the pandemic's disruption to global travel. The airline came out of the business rescue process in April and the South African Government agreed a deal to sell a 51% stake in the airline to a consortium of local investors in June.
Kgokolo has previously indicated SAA will initially operate a fleet of around eight aircraft as it restarts operations.
"The aviation sector is currently going through a testing period, and we are aware of the tough challenges that lie ahead in the coming weeks," says Kgokolo. "We thank South Africa for the support we have received in getting us to where we are today. As we are now poised for take-off, we see this as a major milestone for SAA and the country."
South Africa tightened travel restrictions early in July to counter a fresh spike in coronavirus cases, but this was eased later that month.
Comair, which has itself been through a formal business restructuring process since the pandemic hit, had suspended flights on 5 July. The airline, which operates both Kulula low-cost carrier flights and franchise operations for British Airways, had previously extended the suspension until the end of August citing low demand as a result of travel restrictions. It has now confirmed it will resume flights from 1 September.
Comair marketing executive Brian Kitchin says: "It [suspending flights] wasn't an easy call to make because of the impact on our customers and employees, but we've used the time well, innovating a new fare offering preparing for the restart and looking to re-open more routes such as Mauritius. Flying is what we do and we're eager to take off again and provide South African travellers with compelling products and competitive fares."