South African Airways is immediately cancelling all international services until the end of May.
Operations will continue on some of SAA's domestic and regional routes, although the majority were cancelled in recent days.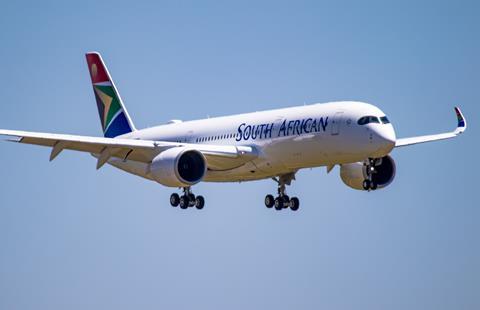 South Africa has declared a "state of disaster" in response to the coronavirus outbreak and placed restrictions on travellers from "high-risk" countries, including the USA, UK, and Germany – three of SAA's most popular destination markets.
"In support of efforts by government to deal with this pandemic, and in the best interests of our crew, passengers and the public, we have decided to suspend all international flights until 31 May 2020," states SAA acting chief executive Zuks Ramasia.
"It is all our responsibility, not just government's, to curb further transmission of the virus. In addition, the increasing risks to our crew of contracting the virus, including the possibility of being trapped in foreign destinations as a consequence of increasing travel bans, cannot be ignored."
The operator is being run by "business rescue practitioners" while a turnaround plan is drawn up.
It operates a mix of Airbus A319s, A320s, A330s, A340s, A350s and Boeing 737s.
On 19 March, IATA appealed to governments in Africa and the Middle East to provide emergency support to airlines, noting that many routes had been suspended and others had been hit by demand drops of up to 60%.
The association estimates that the Afircan air transport industry contributes $55.8 billion to the continent's economy and supports 6.2 million jobs.
State-owned regional carrier SA Express, which has been operating under business rescue practioners since entering formal restructuring in February, suspended services until further notice on 18 March. While it cited coronavirus as a factor, it indicated this was only one consideration behind its decision, attributing the suspension to "adverse recent developments".