Southwest Airlines will be adding flights to Palm Springs, California and Miami as the airline seeks to expand to more destinations for leisure travellers.
The move to Miami marks a major shift by Southwest, which has long avoided that city, choosing instead to serve South Florida from traditionally less-expensive and less-crowded Fort Lauderdale and Palm Beach airports.
The Dallas-based carrier says on 3 September that both destinations are "great additions" to its network.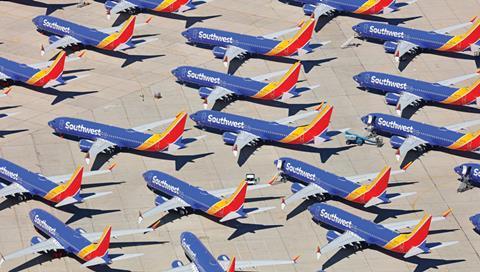 "Our service to both of these airports will bring new, relevant options for our core customers," says chief executive Gary Kelly in a video message to employees on 3 September. "Gradually, they're rediscovering leisure travel across the country as their own situations allow."
"Adding these specific airports to our route map will bring us access to additional revenue at a critical time. It matches our available fleet with demand for very popular destinations," he adds.
The move comes as all US airlines begin adjusting to a new post-coronavirus normal, where leisure travel will likely rebound more quickly than the more-lucrative business travel market.
Therefore, passenger carriers are positioning themselves to serve different routes than in the past so as to capture a larger share of that market.
"Miami will complement and augment the existing South Florida service we have to Fort Lauderdale and West Palm Beach," Kelly says. "Adding our ability for customers to travel there with us is a win."
South Florida's three major airports – Miami International, Hollywood-Fort Lauderdale International and Palm Beach International – are within just 70 miles (113 km) of each other.
Palm Springs is the eleventh airport in California that Southwest will serve, according to Cirium fleets data.
"Palm Springs is a great California destination," Kelly says. "Southwest has long carried more customers to, from, and within the Golden State than any other airline."
Last month, Chicago-based United Airlines also said it was adding flights to Florida. The Chicago-headquartered carrier added 28 connections to four destinations in Florida from seven non-hub cities in the Midwest and Northeast USA, also in an effort to attract customers looking for a warm-weather break during the northern hemosphere's winter.