Southwest Airlines deepened its capacity cuts to 40% from 3 May through 5 June.
The Dallas-based airline had notified investors on 16 March that it was reducing available seat kilometres by 20% from 14 April to 5 June because of lower passenger demand caused by the coronavirus pandemic. Also on 16 March Southwest had enhanced its liquidity with a $1 billion term loan from a syndicate of banks.
The latest capacity reductions leave Southwest with approximately 2,000 flights per day and extend "almost uniformly" across its operation. "This scheduling change merely takes forward in time work that is removing roughly 1,500 flights a day from our current operation," the airline states 31 March.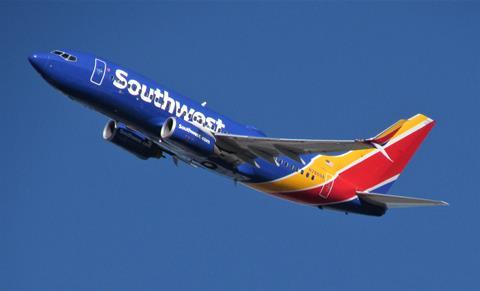 Southwest had already suspended international service.
The carrier will continue flying to all its domestic destinations and maintain "nearly every" city pair that had been in its domestic schedule prior to the coronavirus pandemic. "Some journeys that had been nonstop might now require a same-plane stop or a connection," the airline states.