Southwest Airlines has trimmed its third-quarter revenue forecast to reflect declining demand for air travel and a jump in ticket cancellations – both stemming from surging Covid-19 infections.
The Dallas-based carrier now expects it will lose money in the third quarter when not accounting for US-government pandemic-related financial aid, it says in a 11 August regulatory filing.
The news follows a second quarter during which many US airlines, Southwest included, reported a near recovery in US domestic air travel demand and significantly improved financial results.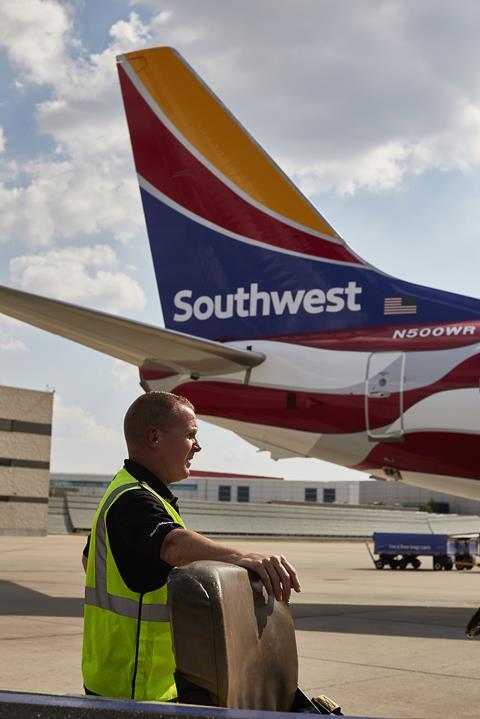 "The recent negative effects of the pandemic on August and September revenue trends will make it difficult for the company to be profitable in third quarter 2021, without taking into account the benefit of" US government wage subsidies, Southwest says.
US airlines are slashing airfares on domestic flights starting in September, with some selling seats as low as about $30, online booking systems show. September is historically a slow travel period.
Southwest now anticipates revenue in August will be 15-20% less than in the same month of pre-pandemic 2019. In July, Southwest had estimated its August revenue would be only down 12-17% over the two-year period.
The carrier anticipates its September revenue will be 15-25% less than September 2019 revenue, and that its third-quarter revenue will be 15-20% less, Southwest's 11 August filing says.
"The company has recently experienced a deceleration in close-in bookings and an increase in close-in trip cancellations in August 2021, which are believed to be driven by the recent rise in Covid-19 cases associated with the Delta variant," says the filing.
That marks a reversal by Southwest since July, when executives said they had seen no impact on their operation from the Delta Covid-19 variant.