Southwest Airlines grounded operations on 15 June due to computer issues, marking the second time in two days that the airline suffered significant operational problems.
"Southwest is in the process of resuming normal operations after a brief pause in our flight activity resulting from intermittent performance issues with our network connectivity Tuesday afternoon," the airline says. "We've pro-actively cancelled roughly 500 flights due to the outage."
The carrier provides no further details about the extent of the problem. Southwest's in-service fleet includes 682 Boeing 737s, according to Cirium data.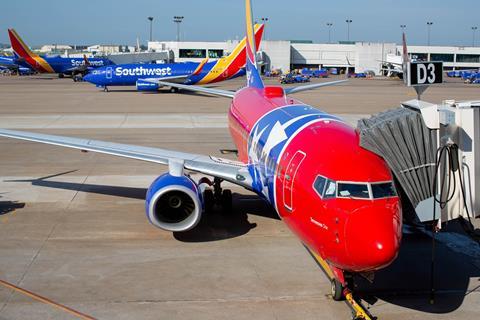 The Federal Aviation Administration confirms it placed Southwest jets under a ground stop.
"The FAA issued a temporary nationwide ground stop at the request of Southwest Airlines while the company resolved a reservation computer issue," says the regulator.
The FAA referred further inquires to Southwest.
The disruption comes one day after a weather-information related computer issue grounded the carrier on 14 June.
Passengers stuck in airports and aboard aircraft took to social media to complain about flights being delayed or cancelled.
Phoenix Sky Harbour International airport tweeted, "Southwest Airlines is currently experiencing a system-wide computer outage," while McCarran International airport in Las Vegas advised Southwest's customers, "If you're headed to the airport today, expect long lines and please pack your patience".