In the latest disruption to passenger air travel across the USA, Spirit Airlines has been forced to cancel more than one-third of its flights in the past two days.
The Miramar, Florida-headquartered no-frills airline did not respond to numerous requests for comment about the flight disruptions on 2 August, which are being reported from airports across the country.
On its website, the ultra low-cost carrier says it is "experiencing operational challenges in some areas of our network".
The cancellations come as many US airlines have struggled with staff shortages as they have added flights amid a recent surge in demand.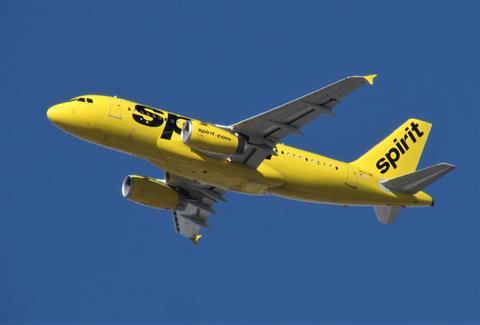 Angry customers took to social media, posting images from several airports including Orlando, Fort Lauderdale, Myrtle Beach and San Juan, Puerto Rico, showing hundreds of people waiting in crowds to check in, board or re-book flights. Some say the situation is "chaotic". Several report waiting for flights at the airport for 8h or more.
According to flight tracking website FlightAware.com, as of 14:45 Pacific Time Spirit had cancelled 283 flights, or 36% of its total flying for the day. In addition, 184 flights – about 23% of the daily flights – were delayed. On 1 August, 165 of Spirit's flights (19% of the total) were cancelled, and 341 flights (40% of flights) were delayed, FlightAware says.
Las Vegas' McCarran International airport on 2 August warns customers to check flight statue with airlines.
"Operational issues are impacting @SpiritAirlines flights nationwide. FLIGHTS WILL BE CANCELLED. If you have a scheduled flight today or questions, please contact the airline BEFORE HEADING TO THE AIRPORT," says a tweet from Las Vegas airport.
Earlier this year, Delta Air Lines, Southwest Airlines and American Airlines cancelled hundreds of flights for a variety of reasons, including weather and staffing problems, as well as technical glitches that kept portions of their fleets grounded.
Some airlines have miscalculated their crew requirements as they have ramped operations following schedule cuts made last year in response to the pandemic.
On last week's second-quarter earnings call, Spirit executives said their business remains "challenging". Spirit posted a $288 million loss for the three months that ended on 30 June. However, they added "the stage is set" for sustained profitability.