Spirit Airlines made a $508 million operating loss in 2020 but plans to return to full pre-pandemic capacity levels by the summer travel season and take delivery of 16 aircraft by year-end.
The US low-cost carrier's 2020 loss compared with a $501 million profit in 2019. The rising number of coronavirus infections in the USA has depressed travel demand, yet Spirit chief commercial officer Matt Klein said during an earnings call on 11 February that the airline aimed to operate at 2019 capacity levels during the third-quarter summer months.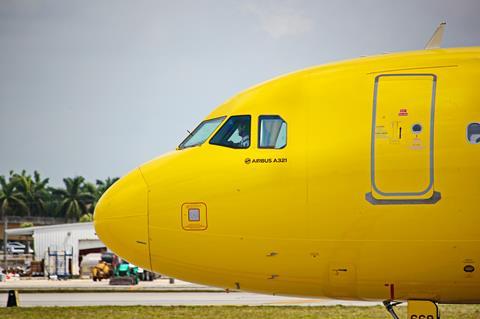 "We anticipate travel for spring break will be muted compared to normal, but our sun destinations will show relative strength based on trends thus far," says Klein.
Spirit is also betting on a travel recovery by moving ahead with deliveries of more than 100 Airbus aircraft it ordered during 2019. The all-Airbus carrier plans to take delivery of 16 aircraft during 2021 and 17 in 2022. Spirit has 20 A321neos, 41 A319neos, and 65 A320neos on order, Cirium fleets data shows.
Knowing when to commit capacity is Spirit's main means of maximising cost effectiveness until a stable recovery, Klein says. First-quarter capacity is forecast to be down 17% compared with the same period in 2020, which was the last quarter before the onset of the travel downturn.
The carrier has been bullish about a leisure-travel recovery and operated 75% of its pre-pandemic capacity during the fourth quarter, yet the rise of coronavirus infections in the USA and the emergence of new virus variants stunted demand.
Fourth-quarter load factor was 71%.
Operating revenue during the fourth quarter was $498 million, down 49% year on year from $970 million. Full-year 2020 operating revenue fell 53% to $1.8 billion.
Spirit made a fourth-quarter operating loss of $159 million, compared with a profit of $125 million in the same period of 2019.
The pandemic has been hard on Spirit because it operates fewer domestic routes than ultra-low-cost competitors Frontier Airlines or Allegiant Air, exposing it to the dramatic downturn in international travel. Nonetheless, Spirit during 2020 launched new routes to Barranquilla and Bucaramanga in Colombia, along with Cap-Haitien in Haiti.
"New testing requirements to enter the USA from international destinations, which went into effect on 26 January, has also had a very recent and profound negative impact to our Latin American and Caribbean network, which currently represents 20% of our total flying," says Klein.
Spirit took delivery of two A320neos during the fourth quarter, one of which was financed by debt and the other through a sale-and-leaseback transaction, ending 2020 with 157 aircraft in its fleet.
Capex for the full year 2020 was $537 million. For 2021, it is forecast to be in the $165-190 million range.
The carrier burned an average of $1.8 million per day during the fourth quarter. Spirit had $1.9 billion in liquidity at 31 December.
Cowen analyst Helane Becker argued in an 11 February research note that Spirit's plan to continue receiving new aircraft during the pandemic positioned it grow during 2022 and 2023 if leisure and visiting friends and relatives (VFR) travel demand continued its recovery.
Becker reiterated her "outperform" rating for Spirit yet forecast that the airline's revenue could be down 46% year on year during the first quarter and 25% for the full year 2021.
With dozens of new aircraft scheduled to be delivered during the next five to seven years, Spirit will eventually need to do a massive hiring spree, yet chief executive Ted Christie remains optimistic that the airline's long-term expansion plans will pay off.
"With case counts declining, and the vaccine rollout under way, now is the time to turn our focus to preparing for the recovery," Christie said during the earnings call.