Start-up carrier Fly Atlantic has outlined ambitions to launch a string of transatlantic routes out of Belfast International airport from the summer of 2024 and is evaluating Airbus and Boeing narrowbodies for the operation.
Under the plans unveiled today, Fly Atlantic would aim to launch low-cost operations basing six aircraft at Belfast airport with a view to trebling the fleet by 2028. The start-up says it is in discussions with the manufacturers over taking Airbus A321neo or Boeing 737 Max jets.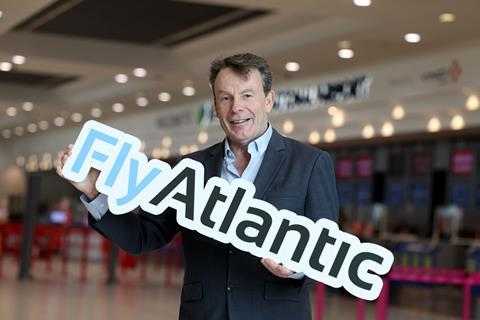 Fly Atlantic is led by chief executive Andrew Pyne, who headed Russian budget carrier Avianova a decade ago. Pyne also served as chief executive of European carriers Cobalt Air and Tus Airways, and was a strategic advisor for Icelandic operator Wow Air – which also operated budget transatlantic flights. He has been chairman of Channel Airways since the end of last year, which Companies House records show is the owner of Fly Atlantic.
"We looked at many options throughout the UK and Ireland. Belfast International and [airport operator] Vinci stood out in terms of the facilities that they offered us and by their enthusiasm for and commitment to making this project a reality," says Pyne.
"Our vision is of Belfast as a strong aviation hub linking Europe and North America. The lack of direct transatlantic air services has clearly been an impediment to Northern Ireland's economic and tourism development, which we now intend to remove.
"The project can be a game-changer. We will be offering affordable fares with brand-new aircraft. We already have offices at the airport and will now be building out the infrastructure to support the airline's launch. We start recruiting for the team early in 2023."
Northern Ireland last had a direct scheduled link to the USA in 2018 when low-cost carrier Norwegian connected Belfast to Stewart International airport in Newburgh, New York. It also previously served Providence from Belfast as well. Both routes were operated using Boeing 737 Max aircraft, but were dropped even before Norwegian took the decision to ditch all its long-haul routes as part of a wider company restructuring.
For many years, Belfast was connected to Newark by United Airlines until the carrier axed the route in 2017. The city also lacks a nonstop connection to Canada.