Finland is to provide a €350 million ($414 million) recapitalisation of state-owned airports operator Finavia amid the continued slump in air traffic demand.
Passenger traffic remained 90% down in September across Finavia's airports and 92% down at its biggest gateway, Helsinki. In response, Finavia will shut one of the three runways at the capital's airport this winter.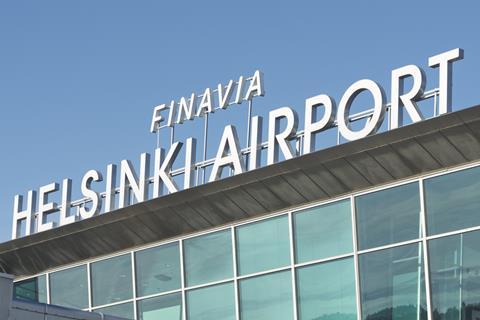 Finland's ministerial committee on economic policy is now seeking authorisation from parliament to inject €350 million into the company.
Tytti Tuppurainen, minister responsible for state ownership, says: "Passenger numbers at Finavia's airports have completely collapsed and, unfortunately, are not expected to return quickly to pre-pandemic levels.
"As a long-term owner, the state wants to develop Finavia's competitiveness and thus ensure that there are preconditions for good domestic and international air connections throughout Finland in the future as well."
Finavia chief executive Kimmo Maki says: "The Covid-19 crisis has caused unprecedented financial distress for the aviation and tourism sectors. The consequences are also dramatic for us.
"Helsinki airport has achieved a significant position as an important hub for air traffic between Europe and Asia. The current standing is a result of long-term work and it will take years to get it back."
Helsinki airport handled 21.9 million passengers in 2019, including 18.9 million international passengers. This accounted for the majority of the 26 million passengers across Finnish airports last year.
Maki says Finavia launched the "most extensive cost-cutting programme in its history" in March when the crisis hit. The company is aiming for €200 million in savings.
Earlier this month Finavia detailed the continued sharp decline in passenger numbers for September.
"There is no end in sight for the difficulties faced by the aviation industry," says Maki. He notes that Finavia's airports served flights to 200 direct destinations around the world a year ago, but that "there is practically only one country of restriction-free travel between Finland and the rest of Europe at present".
"Unfortunately, the recovery of air traffic in Finland is lagging behind the rest of Europe to a considerable extent," Maki says.
Against this backdrop, Finavia is to close runway 04R/22L at Helsinki from the start of November until the end of April 2021.
Finavia airport director Ulla Lettijeff says: "It is sad that we have to close one of our runways for the second time this year. It is an indicator of the prevailing difficult situation in air traffic."
Helsinki closed the parallel runway 04L/22R for four months when the pandemic first struck between April and August.
Lettijeff estimates there will be only a quarter of the of the normal number of flights during the winter.
Earlier in October Finnair announced it was scaling back its flight schedule for the winter season as result of weak demand. It expects to operate around 75 flights per day compared with around 350 daily flights last winter.