Stobart Group, owner of London Southend airport and majority shareholder in Stobart Air, has indicated that its focus remains on minimising cash burn despite limited earnings from cargo operations and restarted passenger flights.
"While passenger activity has been modest in the initial months since reopening, London Southend airport remains well positioned to benefit from the expected recovery in the short-haul leisure travel market as and when restrictions ease," says the UK group in a trading update.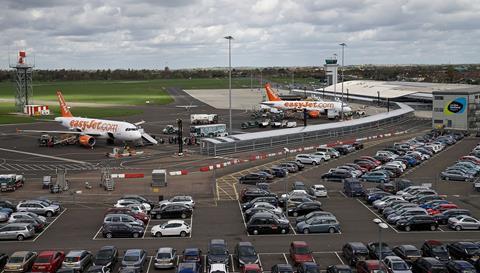 It believes Southend could expand its presence in the air cargo market, which has proven more resilient that the passenger market amid the coronavirus crisis.
Still, Stobart says it "remains confident" of ongoing relationships with Southend's passenger carriers and is discussing post-winter schedules for next year. It is also "actively engaging with a range of other low-cost carrier airlines regarding their interest in established proven routes that can be operated from next year at a low cost of operation".
The group had been in negotiations to sell a minority stake in the airport before the coronavirus crisis hit earlier this year.
Stobart is intent on minimising cash burn and deferring expenditure. It held £119 million ($153 million) in liquidity on hand at the end of August. "The group's core operations at London Southend airport and Stobart Energy are operating within the scenarios set out at the time of the successful £100 million capital raise in June," it notes.
In June, the group said that aircraft movements at Southend had shrunk to fewer than 10 per day while passenger numbers were close to zero, a situation it expected to continue through to end-September. This had wiped out revenues, barring some from cargo operations and long-term aircraft parking.
Meanwhile, the group's airline business Stobart Air, which operates flights under the Aer Lingus brand as well as charter and wet lease services, restarted flights in June, but has been heavily impacted by travel restrictions in Ireland.
Stobart Group, which owns a majority stake in the airline, is "engaging actively with a number of parties" about a sale, as has previously been announced. It is also in discussions with Aer Lingus to extend Stobart Air's contract beyond December 2022.
"The group is executing the strategy it set out at the time of the capital raise and is employing strict financial discipline to safeguard both the operational capability and the value of its core assets to ensure it will be positioned to respond to a recovery in demand," states group chief executive Warwick Brady.
"We are delivering a cost-effective passenger-focused experience at London Southend Airport; we are reviewing the strategic options to realise value from Stobart Energy; we have exited the Rail & Civils business ahead of plan; and we continue to evaluate opportunities to dispose of remaining non-core assets."