In one of the ultra-low-cost carrier's largest-ever network expansions, Sun Country Airlines plans to roll out 15 new nonstop routes from its base in Minneapolis, Minnesota next year.
With the new routes, Sun Country's network would include 120 routes to 90 airports throughout the USA, the airline said 15 November.
Starting in spring and summer 2023, the airline plans to begin flying from Minneapolis to Charlotte and Wilmington (North Carolina), Columbus (Ohio), Kansas City (Missouri), Richmond (Virginia), Louisville (Kentucky), Rapid City (South Dakota), Colorado Springs, Atlantic City (New Jersey), Omaha (Nebraska) and Detroit and Traverse City (Michigan). Most of the flights will operate twice weekly.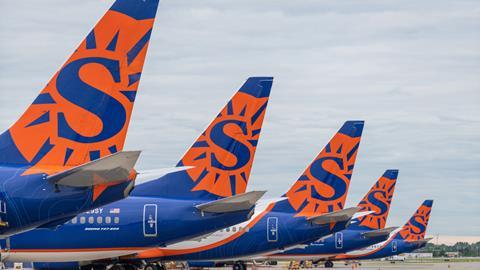 The carrier will also resume nonstop flights from Minneapolis to Milwaukee Mitchell International and St Louis International airports, which had previously been cut by the airline. And, for the first time since 2019, Sun Country will fly four times weekly to John F Kennedy International airport in New York.
"We are excited to continue our growth to top leisure destinations across the country," says Grant Whitney, chief revenue officer of Sun Country. "Our newest destinations support our unique business model as we coordinate our scheduled service with important charter and cargo customers."
Flying a mix of scheduled service, charters and cargo operations, Sun Country operates an all-Boeing fleet of 737s, including 42 passenger jets and 12 freighters for Amazon.
"New service to Charlotte, Columbus, Kansas City and St Louis will coordinate with our Major League Soccer charter service," Whitney says.
Pursuing a strategy to "grow sensibly through the recovery", Sun Country has returned to profitability following the pandemic-related slump in air travel. The carrier posted a $10.7 million profit in the third quarter of 2022 despite higher operating costs and ongoing struggles to hire enough flight crews.
The airline brought in operating revenue of $222 million in the third quarter, a 28% increase compared with $174 million in the three months ending 30 September last year.