Swiss is prioritising destinations over frequencies in the coming winter season, which will see it operate around 50% of its equivalent pre-Covid capacity.
The Lufthansa Group carrier will serve a total of 90 destinations from Zurich and Geneva during the end-October 2021 to end-March 2022 period, it announced on 22 September, a number on a par with its 2019 network.
Service to several "classic summer destinations" will be extended into the winter schedule this year, Swiss adds.
"We have crafted our schedules for the coming winter timetable period to give our customers the widest possible range of air services and connections while still maintaining a robust and reliable route network," says Swiss chief commercial officer Tamur Goudarzi Pour.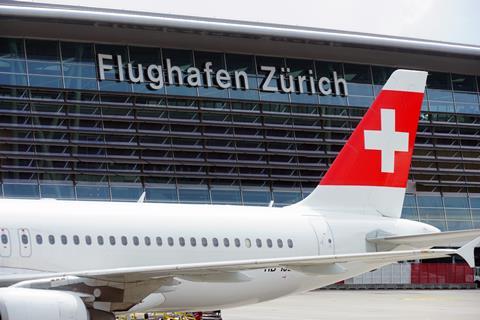 Some 81 destinations will be served from its main base in Zurich, including the long-haul "key centres" of Chicago, Miami, New York, Sao Paulo, Dubai, Johannesburg and Tel Aviv. Of the 60 short-haul destinations to be served from Zurich, several are traditionally summer-only routes, including Malta, Marseille, Palermo and Thessaloniki.
Service from Geneva will focus on 25 European destinations, with a sole long-haul route to New York to be added in December. Geneva will similarly feature several destinations that the carrier traditionally only serves in summer, including Madeira, Sharm El Sheikh and Tenerife.
Of the 92 aircraft in its fleet, the Star Alliance carrier will fly 69 during the period – 47 short-haul jets and 22 long-haul aircraft – alongside four aircraft from wet-lease partner Helvetic Airways.
"All in all, Swiss will be offering around half of the capacity it provided in 2019 in the coming winter schedules," the carrier says.