Southwest Airlines has resumed normal operations after a technology issue once again temporarily grounded all the airline's flights nationwide.
"Southwest Airlines requested the FAA pause the airline's departures," the US Federal Aviation Administration wrote in a tweet on the morning of 18 April.
According to airline sources, the problem was a "third-party data issue" which was resolved quickly and had "no impact" on further flight operations.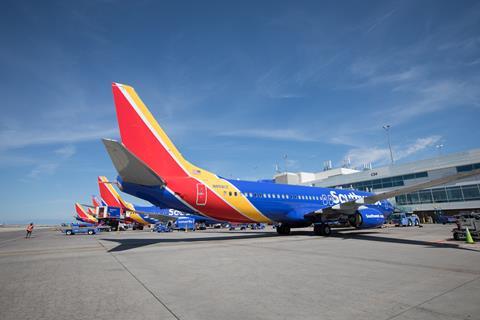 Later in the day, Southwest said it had resumed operations "after temporarily pausing flight activity… to work through data connection issues resulting from a firewall failure".
"Early this morning, a vendor-supplied firewall went down and connection to some operational data was unexpectedly lost," the company says. "Southwest teams worked quickly to minimise flight disruptions."
It's not the first time Southwest has had problems with its information technology systems.
Over the busy end-of-year holiday season, Southwest suffered a widespread operational meltdown after a severe winter storm disrupted travel across the USA. The airline cancelled 16,700 flights, stranding hundreds of thousands of air travellers. But while other airlines recovered quickly, Southwest's crew-scheduling system broke down, forcing it to drastically reduce capacity during the peak holiday travel period.
Following the incident, Southwest pledged to invest $1.3 billion into new technology systems to ensure that a similar event – which cost the company $800 million - does not happen again.
Southwest will publish first quarter results on 27 April.