Long-haul, low-cost carrier Thai AirAsia X is set to resume operations in June, more than two years after suspending flights amid the coronavirus pandemic.
The carrier will resume flights to Tokyo Narita on 1 June and to Seoul Incheon on 5 June.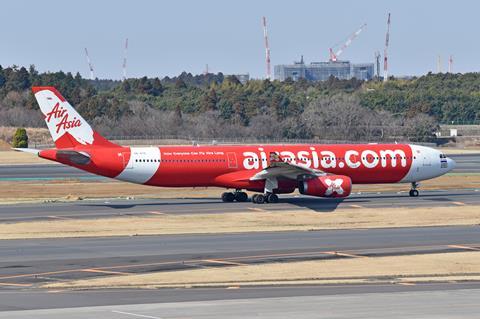 In a statement issued 26 April, Thai AirAsia X says it will also be relocating its operations from Bangkok's Don Mueang airport to Suvarnabhumi airport.
"The move would create new opportunities for growth by establishing more travel connections with best value fares for Thai AirAsia X guests," the carrier, which recently appointed a new chief executive, says.
The move follows a similar announcement from Malaysian sister carrier AirAsia X, which in early April relaunched flights to India and South Korea.
Thai AirAsia X chief Patima Jeerapaet hails the carrier's relaunch as "an incredible milestone", adding: "With Thailand officially reopening and the Covid-19 situation now under control thanks to widespread vaccination, we are thrilled that Thai AirAsia X is finally returning to the skies commencing with two route to be the much anticipated destinations, namely Seoul, South Korea and Tokyo Narita, Japan both departing from Bangkok Suvarnabhumi, Thailand."