Loganair chief executive Jonathan Hinkles is calling on the UK government to ringfence prized Heathrow slots held by collapsed regional airline Flybe for domestic connections.
The Scottish regional carrier, which has itself just begun Heathrow flights, wants to take over seven positions that were secured by its former rival under a "use it or lose it" rule after other carriers pulled out of the London hub during the pandemic.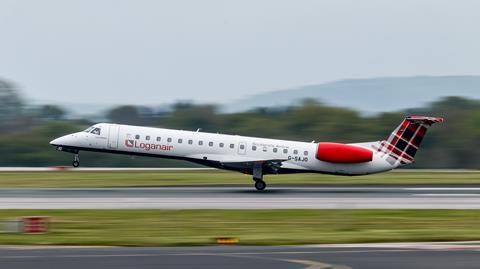 Hinkles says that allowing foreign airlines to take the slots under a highest bidder principle would go against the government's "levelling up" pledge for disadvantaged UK regions, and make it hard for communities in the likes of Derry or Dundee – both served by Loganair – to access global air networks.
"It's unacceptable that these slots are being auctioned off," he says. "Access to our national hub for regional services is critical."
Speaking to FlightGlobal ahead of a talk at the Aviation Club in London on 7 February, Hinkles said he had raised the matter with government departments, but had no idea at this stage whether ministers would put conditions on the transfer of the slots.
Flybe grounded operations for the second time in three years after calling in administrators late last month. New owners had resurrected the airline in 2022 after it previously ceased operating at the start of the pandemic, but had failed to make a profit.
Glasgow-based Loganair, which previously operated largely within Scotland, became the UK's largest regional airline during the Covid-19 crisis after taking over around 18 former Flybe routes, including from Belfast City, Birmingham, Manchester and Southampton.
It secured a single slot at Heathrow in late 2021, with a service to the Isle of Man – making it the first new UK airline to secure a slot at the airport in over 20 years..
Hinkles expects Loganair to carry 1.6 million passengers in 2023, up from a "historic" pre-pandemic figure of around 900,000. He says Loganair was the first UK airline to return to profit in 2022 and is "free of debt".
Prior to the expansion, Loganair operated mostly niche routes north of the border, including inter-island services in Orkney, connections to the Western Isles, and flights from Aberdeen and Shetland largely for the North Sea oil and gas sector.
It has a fleet of Embraer ERJ-145s, ATRs, De Havilland Canada Twin Otters and Britten-Norman Islanders, serving dozens of destinations from large cities to tiny island airfields. It is phasing out its remaining five Saab 340 turboprops, replacing them with ATRs.
In October, owners Stephen and Peter Bond said they were stepping back from running the business and had begun a process to find a buyer for the airline. Hinkles says there has "been a strong level of interest" and "further news on a sale" is likely "later this year".