United Airlines is adding 1,400 flights ahead of the all-important Thanksgiving holiday weekend as US leisure travellers prepare to visit family and friends in other parts of the country, many for the first time since the beginning of the coronavirus pandemic.
The Chicago-based carrier says on 9 November that it expects the week after next to be its busiest since March.
The US Thanksgiving holiday is on the fourth Thursday of November – this year that falls on 26 November - and often travellers will take the following Friday off as well, making it a long four-day weekend. It is the busiest travel weekend in the US every year.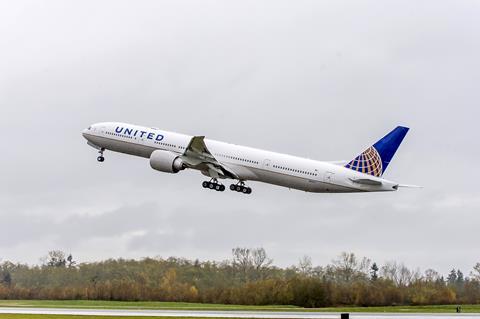 "We know that for many customers, this holiday season may be their first time back on a plane since the start of the pandemic, and we're committed to helping provide flexibility and a safer, clean, travel experience," says Ankit Gupta, United's vice president of network planning.
So while the airline expects more customers that in the past few weeks this year, a larger share of potential passengers are waiting longer to book their flights, for fear of new or changing restrictions that may disrupt their travel plans at last minute.
About 50% of customers are booking travel less than 30 days out, up from 40% in previous years, United says.
For December, the airline says it is expecting to see similar travel patterns as customers weigh their options to go on a vacation for the first time in many months. Altogether the airline is planning on operating 48% of its pre-coronavirus schedule – 52% of domestic capacity and 43% of international - and increasing capacity on many routes.
The airline is adding about 200 daily flights on peak travel days from its hubs Chicago, Denver, Houston and Washington Dulles International airport.
According to early trends, Florida, Hawaii, Colorado, Montana, Costa Rica, Mexico, Puerto Rico and the Dominican Republic are the top destinations for the December break so far, United says.