United Airlines will return to New York's John F Kennedy International airport in early 2021 with flights to the US West Coast, aiming to benefit from new trends in travel following the coronavirus crisis.
The Chicago-based carrier says on 10 November it will operate twice-daily round-trip flights from JFK to both Los Angeles International and San Francisco International airports.
The flights will begin on 1 February and depart from JFK's Terminal 7.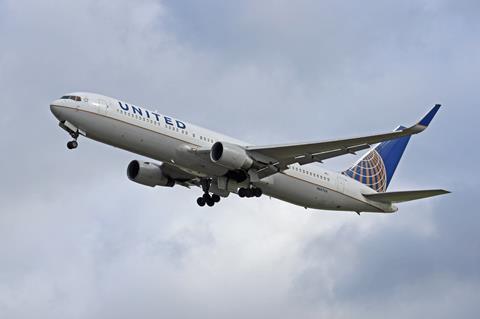 The move marks a notable shift in strategy for United, which had consolidated most of its New-York-area flying at its Newark Liberty International airport hub, the second-largest of the region's three commercial airports, from which it operates flights to more than 130 international and domestic destinations. It is the first time since 2015 that United will be departing from JFK.
According to Cirium schedules data, the carrier also serves nine domestic destinations from the New York region's third airport, LaGuardia.
"The airline's entry back into JFK after five years reflects not only its strong commitment to the New York City area, but a continuation of aggressively and strategically managing the impact of Covid-19 by increasing service to and from the places where customers want to fly," the airline says.
United will operate the flights using a reconfigured Boeing 767-300ER with 46 business-class seats, 22 "Premium Plus" seats – United's premium-economy product – and 99 economy seats, including 47 with extra legroom.
Last week, the New York metropolitan area eased 14-day quarantine requirements for inbound passengers, under certain conditions. Inbound travellers must provide proof of two negative Covid-19 tests – one performed less than 72 hours before departure to the area, and another 72 hours after arrival. Airlines, airports, trade organisations and unions are hoping this type of flexibility will inspire customers to return to air travel sooner.
Last month, United announced plans to launch numerous point-to-point routes from Northeast and Midwest cities to warm-weather destinations in Florida ahead of the winter holiday travel season.
Earlier this week, it added 1,400 routes to its schedule ahead of the all-important US Thanksgiving holiday weekend at the end of this month, as it banks on expectations that US leisure travellers will visit family and friends in other parts of the country, many for the first time since the beginning of the pandemic.
United plans to operate about 48% of its overall pre-coronavirus schedule in December – 52% of previous domestic capacity and 43% of international capacity.