United Airlines is expanding its transatlantic summer flying schedule in 2023 to include new destinations Stockholm, Dubai and Malaga, Spain, in addition to adding flights to six other European cities.
The Chicago-based carrier said on 12 October that the new routes will bring to 37 the number of cities it serves in Europe, Africa, India and the Middle East.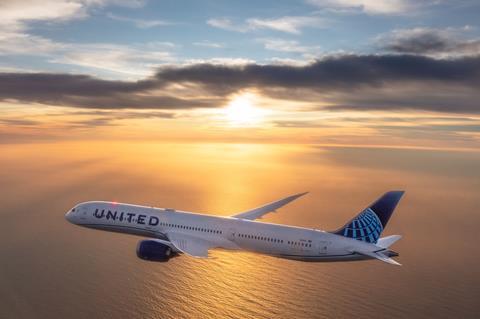 "Next summer United is… making it easier for our customers to visit the most popular cities in Europe, [and] expanding our reach to give travelers access to new places they haven't yet experienced," said Patrick Quayle, senior vice-president of global network planning and alliances. "We expect another busy summer for international travel."
As the carrier announced last month, flights to Dubai are set to begin in March, with the connections to Stockholm and Malaga – United's fifth destination in Spain – launching at the end of May. All flights will depart from the airline's east-coast hub at New York-area's Newark Liberty International airport.
In addition to the new destinations, United will expand its schedule to cities it already serves. These include Rome (from San Francisco), Berlin (from Washington DC's Dulles International airport), Barcelona and Shannon, Ireland (both from Chicago). These flights will begin operating on 25 May, Quayle says.
United is also increasing frequencies to London Heathrow, adding a second daily flight from Los Angeles, and Paris, adding a second daily flight from Washington DC. These flights will begin on 25 March and 2 June respectively.
With the expansion to the UK capital, United will offer 23 daily flights between the USA and London Heathrow.
The additional flights will increase the airline's transatlantic capacity as measured in available seat miles (ASMs) by between 10 and 11% over that during this past summer travel season, and will be about 30% higher than the airline's ASM capacity in pre-pandemic 2019, Quayle adds.
The flights will be operated only for the traditionally busy summer travel season, with the exception of the Dubai connection, Quayle adds.
Quayle says that the international travel outlook remains "very strong…also for next summer".
ASIA FLYING
As Asia reopens following the almost three-year Covid-19 crisis, during the upcoming northern hemisphere winter travel season United is also going to be flying across the Pacific to Asia and Australia more frequently than before.
"We'll be larger now to the South Pacific than we've ever been at any point in United's history," Quayle says. The airline will fly ten times per week from its west-coast hub San Francisco to Sydney and "as a result, we're actually the largest airline between the United States and Australia".
"Everything is coming back online," he adds. "Two places are notable exceptions, and that is China including Hong Kong, and Japan. Everything else across the Pacific is going to be running full steam this winter."
With Japan recently lifting most travel restrictions, United plans to phase in capacity to that country over the winter months, he adds
"If you exclude mainland China and Hong Kong and Japan, the Pacific schedule is as large as it was pre-pandemic, if not larger."
United Airlines reports third-quarter earnings results on 18 October.