United Airlines and Emirates Airline have applied to the US Department of Transportation (DOT) for approval to put their airline codes on each other's flights as per an agreement the two carriers reached last year.
"Phase 1" of the deal encompasses hundreds of United's North American routes from its hubs in Chicago, Houston and San Francisco, and more than two dozen Emirates' flights from its Dubai hub. The deal could encompass "additional code sharing to non-open skies points that may be launched in the future", the companies wrote in a DOT filing dated 5 January.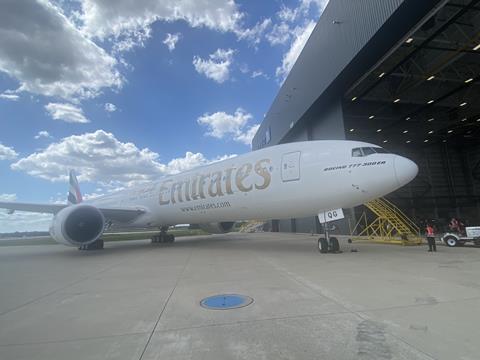 "Granting this application is in the public interest because it will provide substantial consumer benefits by enhancing the service options available to the US travelling public for travel between the US, UAE, and points beyond," the companies say. "United will be able to offer convenient additional online services between the US and points in UAE and beyond, which will enhance competition and travel options available to consumers."
The carriers submitted a list of planned code-share routes. United intends to carry Emirates' code on 126 routes from Chicago, 105 from Houston and 41 from San Francisco. Emirates plans to carry United's code on 27 routes from Dubai.
Last September, the airlines put aside a contentious trade dispute and launched a new partnership they said at the time would dramatically expand their international presence to the detriment of competitors. The deal brought reconciliation between United and Emirates, which had defended opposing positions during a subsidy-related spat last decade.
The new agreement encompasses United, Emirates and discounter Flydubai, which has close commercial ties with Emirates. The deal involves code sharing, with the airlines selling each others' flights as their own.
The partnership started in November, and will expand in March with United's planned launch of a direct flight from Newark to Dubai. There, United's customers will ultimately be able to connect on flights operated by Emirates and Flydubai to some 100 destinations, the airlines have said.
United and Emirates have requested that the DOT expedite its decision on the code-share proposal, saying they "would like to begin marketing their code-share service as soon as possible", the companies write.