United Airlines and Virgin Australia Group are teaming up to offer codeshare flights between the USA and Australia from April 2022, pending regulatory approval.
The move, announced on 13 December, is a blow to US competitor Delta Air Lines, with which Virgin Australia had a transpacific joint venture prior to the global coronavirus pandemic.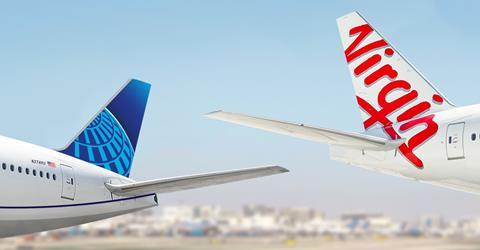 "The United States and Australia share a special bond and I'm especially proud that United was the only airline to maintain a vital link between these two countries throughout the pandemic," says chief executive Scott Kirby.
"Our partnership provides considerable commercial value for both airlines," he adds.
The partnership will include codeshares as well as reciprocal loyalty benefits like access to lounges, priority check-in boarding and baggage delivery as well as baggage allowances.
Chicago-based United currently has daily direct flights to Sydney from west coast hubs San Francisco and Los Angeles. More routes, including from Houston as well as to Melbourne, will return in 2022, the carrier says.
Virgin Australia adds that the venture "will triple the airline's reach into the Americas, with customers to access more destinations and more benefits when travelling to cities across the United States, Mexico, the Caribbean and South America". In turn, United's guests can better access Australian destinations including Brisbane, Perth and Adelaide.
The US carrier says the partnership is "another significant customer enhancement for the relaunched Virgin Australia".
Virgin had halted the sale of codeshare flights during the coronavirus pandemic.
"We are grateful to have such a strong partner in United," says Virgin Australia chief executive Jayne Hrdlicka. "They have proudly been one of Australia's most loyal and long serving aviation partners and their market strength both to Australia and in the United States brings great value to our guests."
A loss-making Virgin Australia entered into voluntary administration in April 2020, amid a collapse in travel demand from the global pandemic. By September, the carrier was successfully sold off to private investment firm Bain Capital, and subsequently relaunched as a mid-market carrier in November 2020.