United Airlines has cut "some frequencies" from its schedule in the New York and Washington, DC metropolitan areas during the busy northern hemisphere summer travel season.
The Chicago-based carrier said on 6 April it is making the changes "in support of the FAA's efforts to reduce air traffic" across New York-area airports.
Last month, the Federal Aviation Administration took the unusual step of allowing airlines to temporarily vacate some of their allocated take-off and landing slots at major hubs in the Northeast USA during the upcoming summer months due to air traffic control (ATC) staffing shortages. The regulator hopes to thereby reduce the overall volume of traffic in the region and, in turn, possible widespread delays and cancellations.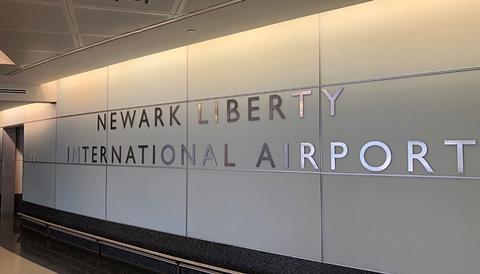 "In many cases, we'll replace the frequencies with larger aircraft to minimise the disruption to our customers' travel plans," United says.
Taking into account the reductions, which "will affect less than 2% of our customers" at New York's LaGuardia airport, Newark Liberty International airport and Washington Reagan National airport, United says it will fly 5% more seats than during the same travel season in pre-pandemic 2019.
United will reduce the number of peak daily departures from New York and Newark by 30, bringing that figure to 408, it says. It will cut LaGuardia-Washington Dulles flights to six from nine daily flights, and Newark-to-Washington National departures to 10 from 18.
No international flights will be impacted and the airline says it will not exit markets as a result of the reductions.
Cirium fleets data shows that United's regional carrier partners will feel the brunt of the cuts. GoJet Airlines, Mesa Airlines and Republic Airways exclusively operate for United on the Dulles-LaGuardia and Newark-Washington National routes.
As of last week, United had scheduled those airlines, in May, to operate 526 flights between Dulles and LaGuardia, and 1,028 flights between Newark and National. It has now cut those to 389 flights between Dulles and LaGuardia (down 26%) and to 758 between Newark and National (also down 26%).
United has trimmed its total number of flights at its Newark hub in May (including those on regional partners) by about 3%, to about 25,500, striking 3% of its mainline flights and 5% of flights operated by both Republic and Mesa. United's number of seats in May at Newark declined just 2% with the changes, Cirium data shows.
The Regional Airline Association, which represents smaller regional carriers like GoJet, Mesa and Republic, did not immediately respond to a request for comment.
Earlier this week, New York-based JetBlue Airways, said it plans to reduce its summer flight schedule in New York as a result of the FAA's request.
On 22 March, the FAA said it would allow airlines operating out of four major airports in the Northeast USA to leave up to 10% of assigned slots unused through the summer travel season due to staffing bottlenecks at ATC facilities.
The US aviation regulator on 22 March issued a "limited, conditional waiver" of the minimum slot usage requirement at New York-area John F Kennedy International airport, LaGuardia airport and Newark Liberty International airport, and at Ronald Reagan Washington National airport near Washington, DC.
The relaxed measures are "due to post-pandemic effects on air traffic controller staffing at the New York Terminal Radar Approach Control (TRACON) facility", it said.
Typically, airlines must use assigned slots at traffic-restricted airports 80% of the time. During the global Covid-19 pandemic, when air traffic dropped sharply as a result of global travel restrictions, aviation regulators relaxed such requirements, allowing airlines to maintain slots without long-term penalty.
Additional reporting by Jon Hemmerdinger.