United Airlines will likely cut more routes to secondary cities in coming months due to an acute shortage of pilots for regional aircraft.
Speaking during the company's fourth-quarter 2021 earnings call on 20 January, United chief commercial officer Andrew Nocella said the airline has cut service to 20 cities so far and that more route reductions are coming.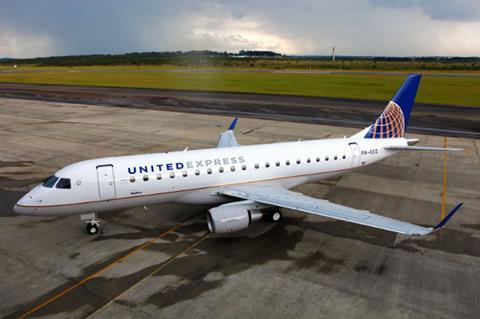 "We know the impact on these communities, we alert them ahead of time, we know it's a big deal for them," he says. "However, we are facing a pilot shortage on our regional aircraft – not on our mainline aircraft – and we expect that shortage to continue for a while, including for the rest of 2022."
"We do expect there will be a few more communities that we will have to remove from the network. We are still working out those details," Nocella adds. He says United has "a lot of aircraft that we will under-utilise for the foreseeable future".
Executives say the problem is "not unexpected" and will continue for "for the next year or two".
The coronavirus pandemic accelerated pilot retirements in 2020 as airlines cut costs, shed employees and put aircraft into long-term storage. Now, as demand rebounds and the industry quickly returns to pre-pandemic levels, cracks have opened in airlines' planning and staffing.
Industry analysts have warned regional carriers like SkyWest Airlines, CommutAir and Air Wisconsin – which operate regional routes for the majors – will suffer most from the new post-pandemic pilot shortage. Regional carriers usually pay lower salaries, and pilots fly smaller aircraft. As a result, these airlines are now offering up to $30,000 in signing bonuses to attract pilots, and additional bonuses to retain them.
Last summer, American Airlines, Spirit Airlines and Southwest Airlines suffered network-wide disruptions due to crew staffing issues, coupled with unpredictable weather. Over the end-of-year holidays, the rapidly-spreading Omicron variant of Covid-19 felled flight crew across the country, forcing airlines again to adjust schedules and cancel flights.