United Airlines hopes to soon restore non-stop service to mainland China after that country lifted all Covid-19-related travel restrictions earlier this month.
But the Chicago-based carrier said on 18 January that it's still waiting for approval to increase the number of flights it may operate between the USA and China.
"We intend to convert our one-stop service to non-stop service sometime in the next few weeks," says United chief commercial officer Andrew Nocella. "We do not have rights to increase our service any further. At this point there's no green light to go beyond what we are currently flying."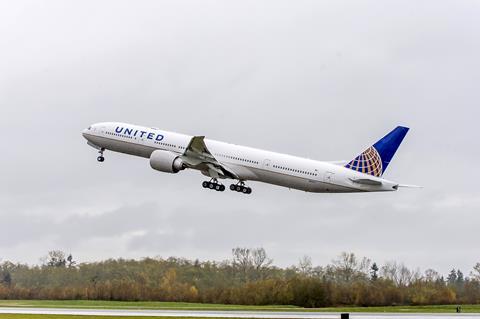 United currently flies four-times-weekly between San Francisco and Shanghai with a stopover in Seoul. Prior to the pandemic, United served Beijing, Shanghai and Chengdu with numerous weekly connections from its hubs at San Francisco, Los Angeles, Washington DC, Chicago and Newark.
Airlines cut most flights to Asia in March 2020 as the global coronavirus pandemic nearly brought the industry to its knees. While US carriers have gradually been returning capacity to other parts of Asia as markets have reopened, non-stop service to China has remained severely limited due to the latter's only-recently eased zero-Covid policy.
Earlier this month, Delta Air Lines' chief executive Ed Bastian said that carrier will "not going to get ahead of ourselves" in restoring capacity to China even though the airline's international recovery is "well underway". Pre-pandemic, Delta operated flights to China from Atlanta, Detroit, Seattle and Los Angeles, according to Cirium data.
China lifted all coronavirus-related travel restrictions on 8 January after almost three years. That opening follows a broader North Asia reopening in late 2022, which saw neighbouring North Asian countries such as Japan, South Korea and Taiwan drop their restrictions.
Almost immediately, Chinese carriers announced they would expand their schedules to North America to take advantage of what they expect will be pent-up demand for overseas travel. On 4 January, Air China and Hainan Airlines submitted new schedules to the US Department of Transportation (DOT) with their expanded route intentions.
Currently only four airlines – Air China, China Eastern Airlines, China Southern Airlines and Xiamen Airlines – operate non-stop flights between China and the USA, according to Cirium schedules data.